We've been fans of Ball Canning for quite awhile. We are avid users of their canning products, and of course we carry a large selection of their products too.  This summer, Ball Canning, has introduced some pretty cool new tools and products that will motivate you to try something new and help you preserve more!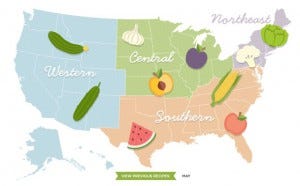 We love this new Interactive Canning Map. It shows the various regions of the country and what's currently in season in those areas. Clicking on the various images of fruits and vegetables will take you to preserving recipes that utilize those ingredients. If you need help calculating the pectin you need for your jam or jelly, use this handy pectin calculator. If you're new to canning, this simple pH chart will give you guidance on pH and which preserving method will be needed. Making jelly without pectin? You can use a sheet test to determine if you've reached the gelling point.
Meet Ball's Fresh Preservers team, they include two of our favorite ladies – Marisa McClellan and Malia Karlinsky. You'll find new recipes for summer preserves that the Fresh Preserve team has created specifically for Ball, like this Blackberry Lavender Jam. If you want more recipes and ideas, the two most recent  Ball Blue Books are great resources to have in hand. You can also check out Ball's Tumblr, called Freshly Preserved Ideas.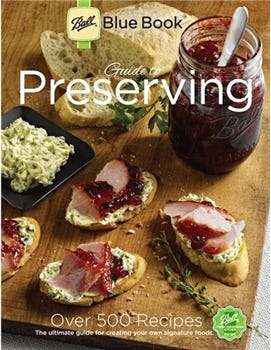 Jarden Home Brands (parent company of Ball Canning) shared some survey results with us that were pretty impressive. They found that 40% of gardeners plan to preserve half or more of the food they grow this season and 44% freeze it for later use. A whopping 77% of gardeners have canned, frozen or dehydrated foods to preserve them, and 33% of those preserving gardeners are millennials.
We are often asked which Ball products we carry, so we've put a list together for you.
Ball Wide Mouth Jars
Ball's traditional canning jar with the Ball signature imprinted on the front of the jar is available in 16oz, and 24oz, 32oz, 64oz.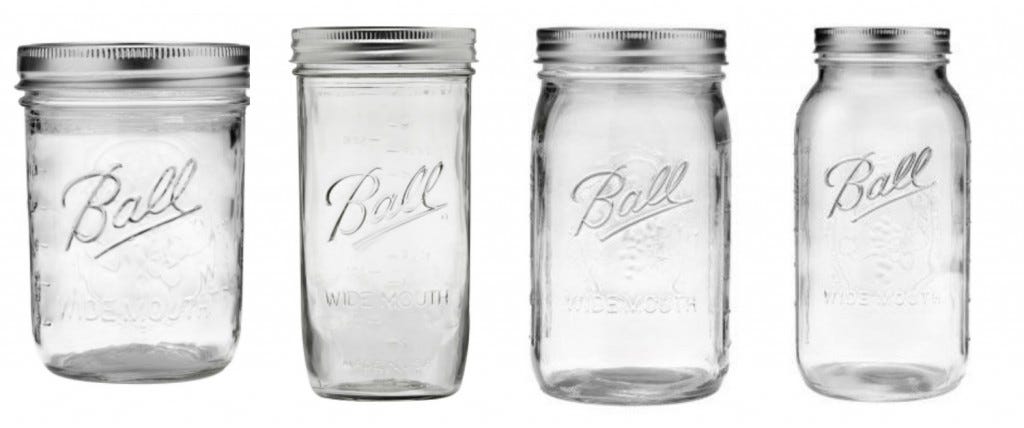 The Elite Collection also offers two unique squat style jars in a wide mouth opening. Available in an 8oz., and 16oz; as well as this 8oz Kerr jar, which is made by Ball.
Ball Regular Mouth Jars
Ball's Quilted jelly jars offer a traditional look and are an old favorite with canners. The quilted line of jars are available in 4oz, 8oz, and 12oz. and come with bands and lids.
Ball's traditional canning jar with the Ball signature imprinted on the front of the jar with tapered shoulders is available in 16oz, and 32 oz.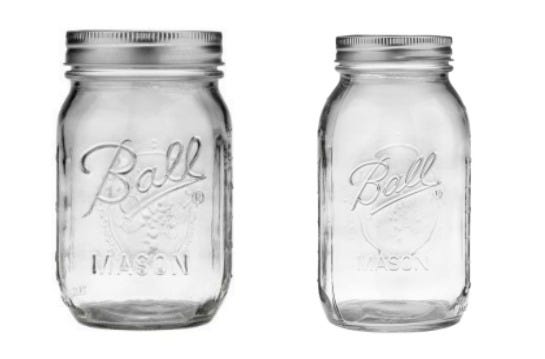 Ball Collection Jars
The past few years, Ball's been creating specialty jars that offer a different style or color than traditional canning jars. They are still safe for canning, but they are just as pretty to look at, as they are to fill!
Collection Elite
The Collection Elite color series jars were released last year, and we understand they are here to stay. The never-before released sizes in blue glass include – 8oz. regular mouth, 16oz. wide mouth and 32oz. wide mouth jars. Each jar is made in the USA of colored glass and is safe for water bath canning, pressure canning and food storage. Learn more about these jars here.

Also introduced in this collection is a clear glass vintage style regular mouth 8oz jam jar. The jar sports a squat shape and is covered with a variety of embossed fruits styled jars and is available in regular mouth.
Ball Lids
All of Ball's jars come packaged with bands and lids, but if you need fresh lids they are available in a 24-pack. Ball's plastic storage lids are also a nice one-piece option when storing open jars in the fridge. If you do a lot of canning, consider purchasing  our bulk flats, available in both regular and wide mouth. They are manufactured by Ball, but are unmarked.
Ball Freeze Safe Jars
If you plan to freeze in your jars, but sure you are using jars that are freezer safe.  Check out the chart below to identify which jars are best for freezing. To read more about how to freeze in jars safely, read this post.
If you're not comfortable freezing in glass try Ball's Plastic Freezer Jars – available in 16oz. & 8oz. sizes.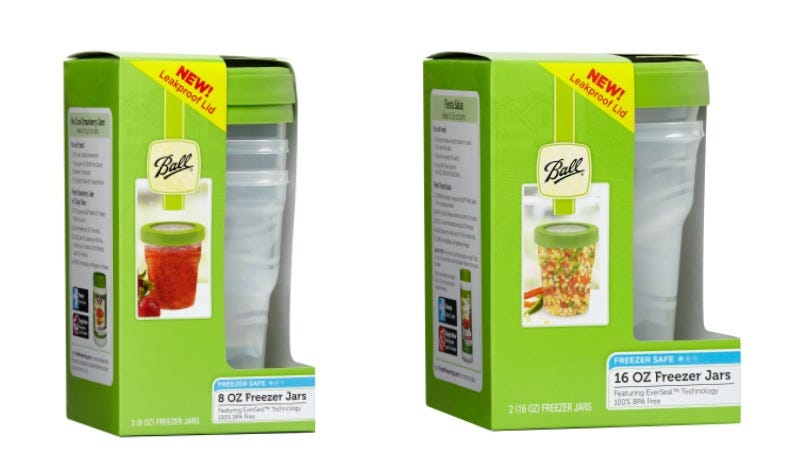 Are we missing a Ball jar that you love? Unfortunately, we can't carry every single jar from Ball and here's why:
Ball's entire line is not available to us through our supplier. Some of them are ear-marked for non-USA markets.
Some items would be duplicates of what we carry in a more economical and/or more versatile version.
Sometimes we are able to bring items in as a special order, but there is usually a minimum quantity expected in order to do so and a greater lead time. If there is a particular item that you're interested in, feel free to ask by emailing info@filmorecontainer.com with the details.
Save
Save
Save
Save
Save
Save
Save
Save
Save
Save
Save
Save
Save
Save
Save
Save
Save
Save
Save
Save
Save
Save
Save
Save
Save
Save
Save
Save
Save
Save