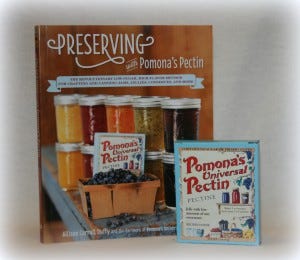 The makers of Pomona's Universal Pectin are jumping into jamming season with a giveaway and we've partnered with them by adding some vintage style jam jars and an iLid to the prize pack. Enter your chance to win at the end of this post, or over at Pomona's.
If you aren't familiar, Pomona's Pectin is a sugar-free, preservative-free, low-methoxyl citrus pectin that does not require sugar to jell. It enables you to make jams and jellies with little or no sugar, allowing you to make a healthier version of your preserves. For those of us that love to jam, but are trying to reduce the amount of sugar in your diet, Pomona's is the way to go. To learn more about making low sugar or sugar-free jam with Pomona's read this, or consider getting the book Preserving with Pomona's Pectin.
In honor of Pomona's and jamming season we've pulled together a few of our favorite jam and jelly recipes that use Pomona's, and check out the Pomona's blog for a Strawberry Prosecco Jelly recipe.
Pomona's Pectin Recipe Round-Up
Low Sugar Strawberry Vanilla Jam
Pear-Cranberry Conserve with Almonds and Crystallized Ginger
Pear Vanilla Jam with Honey
GIVEAWAY
Two lucky winners will receive Preserving with Pomona's book, and a box of Pomona's Pectin from the folks at Pomona's; And a case (4 jars) of Vintage Style Jam Jars with bands and lids, along with an iLid for capping an open jam of jar, or storing calcium water (winner chooses iLid color) from Fillmore Container. Enter Below
Save
Save
Save
Save
Save
Save
Save
Save
Save
Save
Save
Save
Save
Save
Save
Save
Save