Updated – April 13, 2021
This Blubarb Jam with Pomona's Pectin recipe was adapted from a recipe by jam-maker Kirsten Jennings, who first tried it at a local restaurant and liked it so much that she figured out how to make it at home herself. The combination of blueberries and rhubarb is less common than the typical strawberry-rhubarb pairing, but it really shouldn't be—this lovely, deep blue jam is a delicious, tangy treat.
The recipe is in the book Preserving with Pomona's Pectin by Allison Carroll Duffy (Fair Winds Press, June 2013), but they've let us share it with you below.
Blubarb Jam
Excerpted from Preserving with Pomona's Pectin by Allison Carroll Duffy (Fair Winds Press, June 2013)
Yield: 4 to 5 half-pint (8-ounce) jars
Before You Begin: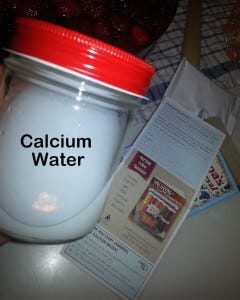 Prepare calcium water. To do this, combine ½ teaspoon calcium powder (in the small packet in your box of Pomona's pectin) with ½ cup water in a small, clear jar with a lid. Shake well. Extra calcium water may be stored in the refrigerator for future use.
Wondering what calcium water is? Calcium water is a solution of the monocalcium phosphate powder (food-grade rock mineral source) that comes in its own packet with every purchase of Pomona's Pectin. Pomona's Pectin directions tell you how to make calcium water with the calcium powder. Pomona's Pectin recipes call for calcium water because the pectin is activated by calcium, not by sugar. You can read more about calcium water here.
Ingredients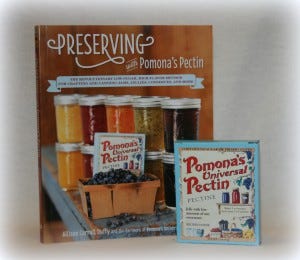 1 pound blueberries
1 pound trimmed rhubarb stalks
½ cup water
¼ cup lemon juice
2 teaspoons calcium water
1¼ cups sugar
2½ teaspoons Pomona's pectin powder
Blubarb Jam Directions
1. Wash your jars, lids, and bands. Place jars in canner, fill canner 2/3 full with water, bring canner to a rolling boil, and boil jars for 10 minutes to sterilize them. (Add 1 extra minute of sterilizing time for every 1000 feet above sea level.) Reduce heat and allow jars to remain in hot canner water until ready to use. Place lids in water in a small saucepan, heat to a low simmer, and hold until ready to use. (If you're using newer Ball lids, you may skip this part. However, I am in the habit of dipping my lids into the water bath before applying them.)
2. Rinse blueberries, remove stems, and mash in a large bowl. Set aside.
3.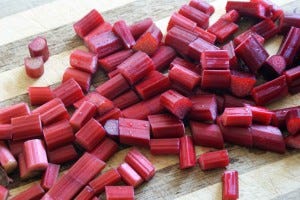 Rinse rhubarb, slice stalks lengthwise into thin strips, and then dice. Combine diced rhubarb in a saucepan with ½ cup of water. Bring to a boil over high heat, reduce heat, and then simmer, covered, for 5 minutes, or until rhubarb is soft, stirring occasionally. Remove from heat and mash rhubarb.
4. Measure out 2 cups of the mashed blueberries and 2 cups (473 ml) of the mashed rhubarb (saving any extra for another use), and combine the measured quantities in a saucepan. Add lemon juice and calcium water, and mix well.
5. In a separate bowl, combine sugar and pectin powder. Mix thoroughly and set aside.
6. Bring fruit mixture to a full boil over high heat. Slowly add pectin sugar mixture, stirring constantly. Continue to stir vigorously for 1 to 2 minutes to dissolve pectin while the jam comes back up to a boil. Once the jam returns to a full boil, remove it from the heat.
7. Can Your Jam: Remove jars from canner and ladle jam into hot jars, leaving 1/4 inch of headspace. Remove trapped air bubbles, wipe rims with a damp cloth, put on lids and screw bands, and tighten to fingertip tight. Lower filled jars into canner, ensuring jars are not touching each other and are covered with at least 1 to 2 inches of water. Place lid on canner, return to a rolling boil, and process in water bath for 10 minutes. (Add 1 extra minute of processing time for every 1000 feet above sea level). Turn off heat and allow the canner to sit untouched for 5 minutes, then remove jars and allow to cool undisturbed for 12 to 24 hours. Confirm that jars have sealed, then store properly.
TIP: Frozen Ease!
You can substitute frozen berries for the fresh, and if you don't have a lot of time, this is a good option. Simply defrost the berries, and then mash them as the recipe calls for. After defrosting, the berries will be in a lot of juice, but don't drain them—simply incorporate all of the juice into the mashed berries.
---
Follow Us On Pinterest
Find more jam recipes and tips on our Pinterest boards.