It's that time of the year in these parts…when just about every road side stand and farmer's market is showing off their bundles of freshly cut asparagus. Those bright green spears, sometimes tipped with some purple hues are just irresistible! Our family loves to enjoy them roasted – with a little olive oil & sea salt, or with some Chef Tim's drizzled over them. Since the growing season is pretty short for these beauties, we like to preserve some for later.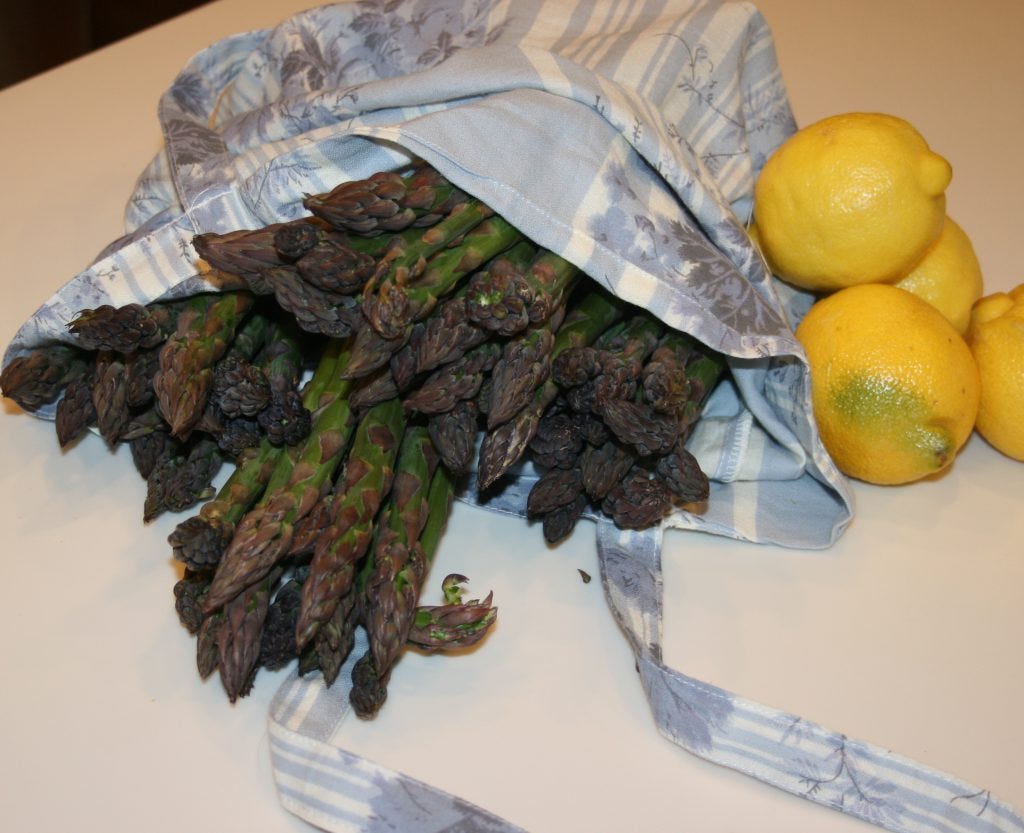 We've pulled together a few of our favorites and some new recipes that will provide you with a variety of tastes…and include different methods of preserving. We hope that you try some and are sure to let us know which are your favorites!
How to Fill Your Jars
If you've always wondered about which way is the proper way to put your spears into your jars, you're not alone! Guess what…there isn't really a "proper" way! Here's what we've found: They often wish to float, so if you're worried about putting them in head first, chances are, those little tips won't get messed up. I usually place a slice of lemon on top to help keep them under the brine, but it still allows for plenty of wiggle room. If you put them in this way, it's easier to remove them from the jar without fussing with them or breaking the tips. However, if you wish for them to be super straight, or if you're aiming for a pattern (by mixing in some white asparagus), you may find that it's easier to pack them more tightly when putting them in stalk first.  So, it's really up to you! They'll taste just as good either way!
Refrigerator Pickles, Quick Pickles and Water Bath Processed Pickles
Spicy Asparagus Carrot Refrigerator Pickles from One Tomato, Two Tomato
If you love to play with flavors from your herb garden, this Lemon & Tarragon Pickled Asparagus  and Fennel Pickled Asparagus  from Erin can be "quickled" (in the refrigerator) or made shelf-stable by water bath processing. Our 4th Burner Pot with straining basket and 16 oz Paragon jars came in handy for this recipe.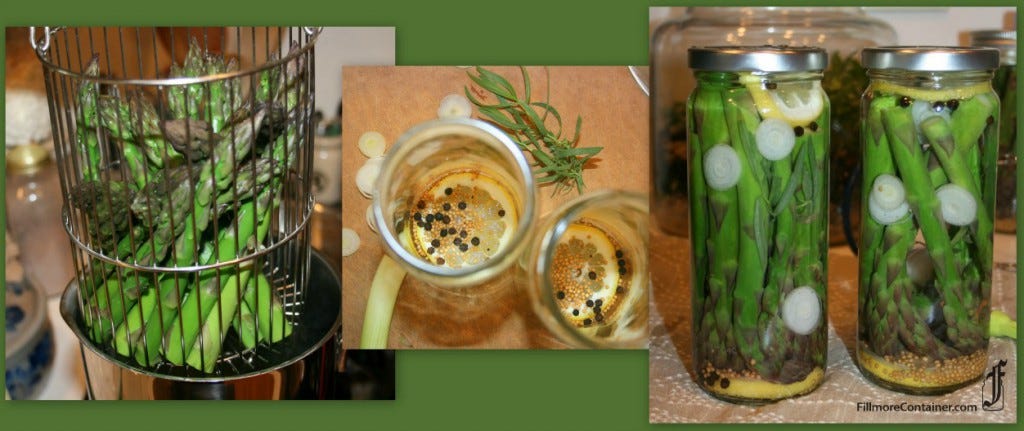 What to do with those Asparagus ends?
Freeze them for a creamy asparagus soup on a dreary day.
Toss them into your vegetable stock bin in the freezer.
Want to use them right away? Try this Chilled Asparagus & Almond Soup
RECIPE – Probiotic Asparagus Pickle

These fermented asparagus pickles are a favorite way to fete the arrival of spring and look so pretty setting on the counter! Thanks to Phickle for sharing it with us.

Ingredients
1 bunch of washed asparagus, approximately 15 spears, woody ends trimmed. Medium-thickness asparagus spears that have roughly the same circumference as one another work best in this recipe.
1 tablespoon yellow mustard seeds
1 bay leaf
1 whole glove of garlic, peeled
2 cups brine (1 tablespoon of coarse or kosher salt dissolved into 2 cups of room temperature water)
Yield: 1 quart; fermentation time approximately 2 weeks at room temperature
1. (Optional)  Chop your asparagus spears crosswise into 2-3 inch pieces, a slanted cut is always pretty. I chose to let mine stand like little soldiers. It really depends on how you're thinking of serving them.
2. Place your seasonings in the bottom of the quart jar, place asparagus spears over the seasonings and pour brine into jar until there is a layer of brine over the spears. You don't want your brine level above the shoulders of the jar.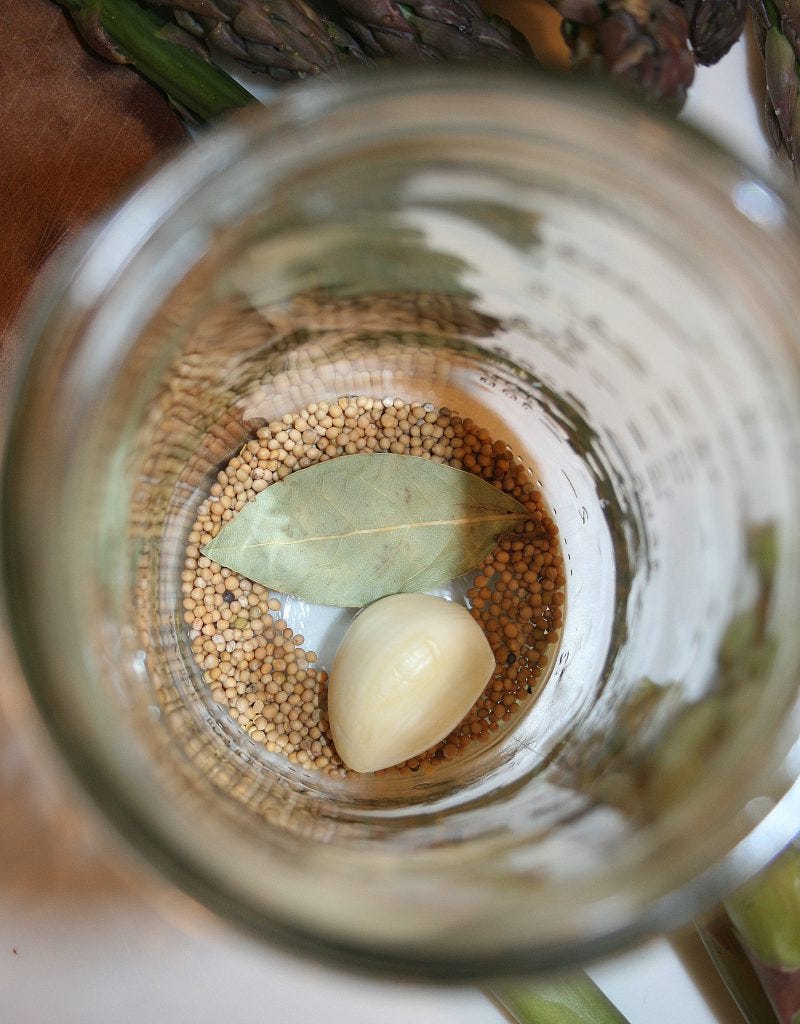 3. Ensure that veggies are completely submerged. I've used  a glass Pickle Pebble which fits perfectly and one of my Pickle Pipes – a super easy set-up.  Some people use special jars with airlocks, plastic bags filled with brine or even boiled stones to do the same thing. Amanda shows how to keep them underneath the brine using a jam jar full of water as a weight and then cover the whole thing with a cloth napkin and secure it with a rubber band.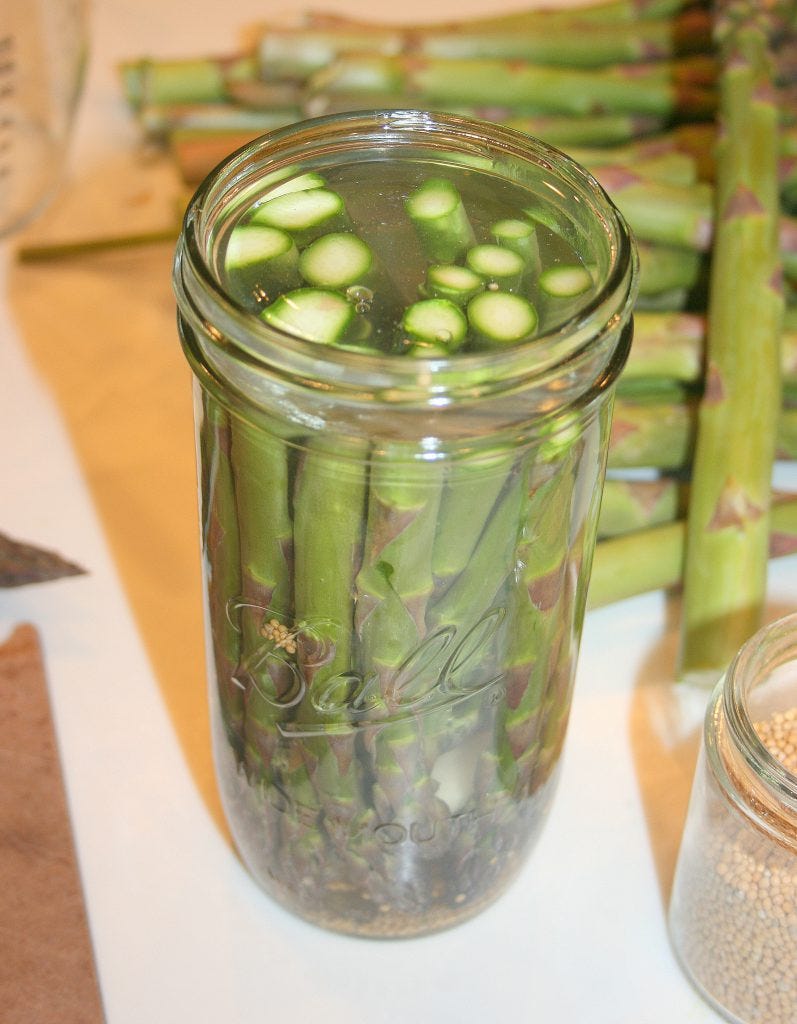 4. Let them sit at room temp (somewhere between 64F and 75F is best) for 1-2 weeks, or until your desired acidity has been reached, then remove the weight, close the jar with its normal lid and stick them in the fridge. Enjoy them 'til they're gone. It's never long in our house! For more recipes from Phickle, check out her book Ferment Your Vegetables or her blog.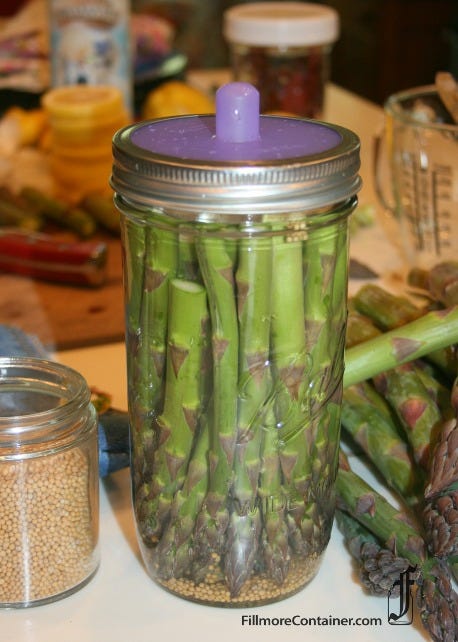 The Best Tall Jars for Asparagus
We picked out a few of our favorite tall jars that are perfect for pickling asparagus & string beans.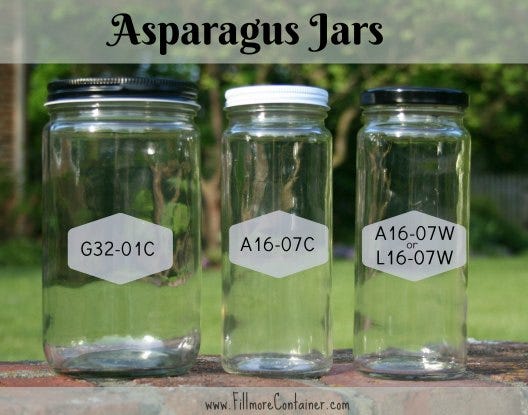 The 32 oz Straight Sided jar (G32-01C) is (pictured on the left) uses a continuous-thread lid and is tall enough to accommodate asparagus, and wide enough to allow you preserve a family-sized portion.
The 16 oz Paragon jars are (pictured to the right) tall and narrow and often used for canning asparagus, string beans, and olives. These jars are available in both lug lid style (A16-07W or L16-07W), or a continuous-thread style (A16-07C).  If you've never canned with lug lids, here's a tutorial.
We used to use the Ball wide mouth 24 oz. jar for asparagus. There's no shoulders, so it is easy to fill, easy to empty, and can be used for freezing in addition to hot fill canning, water bath canning and pressure canning.
Save
Save