Over the years, we've been inspired by so many preservers. We love to hear all the stories about why they love preserving.
We enjoy swapping tips & recipes. We've eagerly learned a thing (or 10) during a podcast, webinar, or hands-on canning class. We've proudly followed bloggers who have gone on to write a book(s) about their passion for preserving. We especially love when customers stop in and share a jar of their favorite jam or pickles.  We get just as excited as our customers do when their small businesses suddenly take off!
What we love most about preserving is the wonderful people we meet, the community we've formed across the nation with similar minded preservers, the great tips we've learned along the way, and the opportunity to pass along a tradition that helps feed families.
We've asked a few of our favorite preserving experts to reflect on their experience with preserving; how they think it's changed over time; what preserving means to them; and how their preserving skills and interests have changed over time. We were intrigued by everything they had to say and wanted it share it with all of you.
Theresa Loe, Living Homegrown
Theresa Loe is the founder of LivingHomegrown.com and the Canning Academy® – a website and online school dedicated to helping people live farm-fresh without a farm.  She is also the Co-Executive Producer and on-air Canning Expert for the national gardening TV series Growing A Greener World on PBS. And she is the host of the Living Homegrown Podcast a weekly program on canning, fermenting and small-space food growing.
The preserving of our grandmother's time was more geared toward marathon canning sessions with the main purpose of preserving a bountiful harvest and stocking up the pantry. The recipes were large and the process was sometimes back breaking work.
Then in more recent years as food became industrialized, home canning's popularity waned because people thought everything they needed could be found in the store. But as we now know, that industrialized food may have been cheap, but we paid the price with our health. People now realize that processed food is full of preservatives and lacks flavor and nutrition. Today, they are more interested in what's IN their food and are looking to canning again to fill their pantry with pure foods that are free of preservatives. Smaller-batch and low-sugar recipes are more popular now than ever before.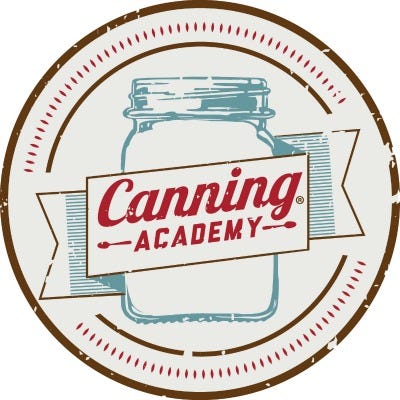 As a lifelong gardener, I really appreciate that magic moment when produce is at its peak. You can't find that kind of flavor in the grocery store because the produce in the store is chosen for its shipping ability – not for its flavor quality. So for me, canning is about capturing that magic moment of homegrown flavor and keeping it in a time capsule called a canning jar. Then later when I want to relive that magic moment, I only have to open my pantry and it's sitting there waiting for me.
I grew up in a family of gardeners and preserved food my whole life. But I never really fully appreciated canning until I had formal training through the Master Food Preserver program and then later went to culinary school. It was at that point that I learned the nuances of flavor science and canning became an art form for me. We now have an heirloom tree orchard with some very spectacular fruit varieties. And although preserving the harvest is still important, I'm obsessed with capturing those unusual flavors that you can't buy in the store. I love to experiment to showcase the heirloom fruit. So my canning today is more small-batch, low sugar recipes where I use spices and herbs to showcase flavor.
Joel MacCharles & Dana Harrison, Well Preserved and Batch
Joel MacCharles and Dana Harrison are founders of WellPreserved, co-authors of Batch: Over 200 Recipes, Tips and Techniques for a WellPreserved Kitchen. Joel is a writer, public speaker and cook. Dana is a designer, illustrator and art director.  
I think the biggest change in preserving has little to do with the act in question – it's actually how 'preserving' is perceived. When we started in 2008, the term largely referred to water bath canning, by 2010 it was perceived as a trend (Slate called it 'ridiculously trendy' back then) and current preservers are expanding their techniques and learning about curing, fermenting, dehydrating, pressure canning and more. People are learning to get beyond thinking of preserves as sugar or vinegar-soaked condiments and exploring many more methods of preserving than we've seen in the past. The results are exciting – the perception of preserving is moving away from being a nostalgic curiosity and evolving into a practical set of tools that is relevant and exciting for the modern home cook.
As people have broadened their methods of preserving we've also seen an explosion of influences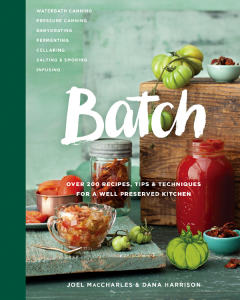 from other cultures and palates. Kimchi, lime pickles, charcuterie, sauerkraut and kefir are appearing in kitchens across North America. By going beyond the water bath people have been able to be far more experimental and have started to safely evolve preserving through experimentation. Homemade chili salt, coffee-flavored kombucha, flavored ginger beer and garlic-fermented honey are all examples of the progression of flavor and technique that makes this a fascinating time to be involved in the preserving community.
From a personal perspective, we continue to experiment and combine techniques and flavors to see what happens. I'm in a phase where I'm particularly obsessed with smoking anything and enjoy combining it with other techniques. Smoked onion powder, smoked fermented hot sauce, and smoked garlic-scape salt are all examples of such experiments. Preserving isn't changing; our relationship with and understanding of it are.  
Marisa McClellan, Food in Jars
Marisa McClellan is a blogger, food writer, canning teacher, and dedicated farmers market shopper who lives in Center City Philadelphia. Marisa is the author of Food in Jars: Preserving in Small Batches Year-Round,  Preserving by the Pint: Quick Seasonal Canning for Small Spaces, and her newest book is Naturally Sweet Food in Jars.
Preserving means so much to me. It's become a key component of how I identify myself. Knowing how to preserve food means that I can support my local farmers, save money (because when you have all the equipment and you're buying seconds in season, it does save money), and know what I'm eating. I love knowing that a little hard work in the summer months means that I'll have delicious things to eat and share all year round.
I feel like my own preserving practice has changed a great deal over time. I've gone from high sugar, large batch preserving, to an approach that focuses on small batches and natural sweeteners (except when it comes to tomatoes. I still do tomatoes in great, big batches). While I don't think that I can speak for all preservers out there, I do feel like there are a number of other people who have gone through the same transition that I have. So many of us are simply trying to find ways to fit preserving into busy lives and modern diets, because knowing where our food comes from matters to us!
One of the things I most appreciate about preserving food is that it has allowed me to build relationships with people that would otherwise be strangers. I count my growers and fellow canners among some of my dearest friends in the world. My life is so much richer because I preserve food.
Amanda Feifer, Ferment Your Vegetables
Amanda Feifer is the fermentation educator behind the blog Phickle.com and book Ferment Your Vegetables. She teaches classes on topics ranging from hot sauce and miso to sauerkraut and kombucha. Her demos at the PA Farm Show will explore popular fermentation topics including, kefir, kombucha, pickling and more.
One thing I love about fermentation is that it hasn't changed much at all over the millennia. It's so old, we don't have any kind of written or oral history to tell us how it came to be, but it's easy to believe that humans began using it as a preservation method. Too many things ripe at the same moment in time? Only one thing to do: preserve them, without the benefit of sterile methods or reliable heat sources, and survive the winter.
I love to imagine my grandmothers and their grandmothers making vegetable ferments or yogurt or cheese or vinega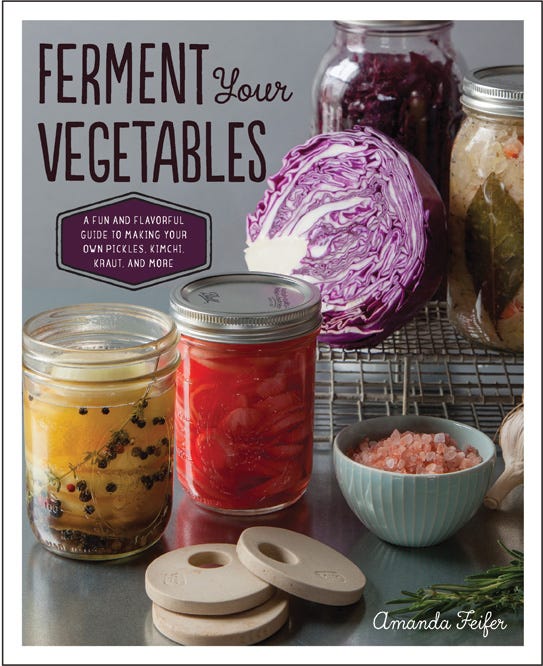 r or country wine the same way I do today. It makes me very proud to continue the tradition that was likely begun by women born far too long ago to appear on even the deepest roots on my family tree.
My own process has been slightly streamlined and made more creative with the help of home experimentation and the results of scientific research. I have the luxury of a food budget that permits me to try a new recipe and not stress if it doesn't turn out, and year-round food shops that mean I preserve my food, at least in part, for the pleasure of its flavor and the variety it provides in my diet. I also have a small family, so fermenting in jars rather than large crocks as my ancestors did, is often the way I go. At the end of the day (or month, as is more accurate in sauerkraut fermentation), my sauerkraut surely tastes the same as my great-great-great-great-grandmother's did and it definitely contains the same delicious, probiotic bacteria that her's did.
Linda Ziedrich, The Joy of Pickling, and The Joy of Jams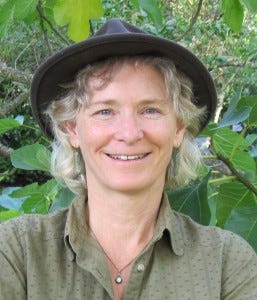 Having recently sold the farm where for 22 years she grew, prepared, and wrote about fruits and vegetables, Linda is continuing her experiments in the garden and kitchen of a little bungalow in the small town of Lebanon, Oregon. Linda's best-selling book, The Joy of Pickling, will be released in its third edition on July 1, 2016. That book and its sister, The Joy of Jams, Jellies, and Other Sweet Preserves, are the fruit of Linda's empirical research as well as her studies of culinary traditions around the world. Linda also keeps a blog, teaches preserving classes, and develops products for Crisp & Co., a pickle manufacturer based in Delaware.
My family's approach to preserving the bounty has always depended on the nature of the bounty. For every tree or vegetable variety on the homestead, yields vary from year to year. If the Gravenstein yield is small, for example, I might use the fruit for applesauce and apple butter and put off cider making until fall, when we harvest other apple varieties. I always dry tomatoes, but I fill the dehydrator over and over only when the pantry is already well-stocked with tomato sauce and juice. For us, preserving has never been simply about pasteurizing food in jars. Options have always included wine and cider and beer making, vegetable fermentation, dehydration, freezing, salting, and smoking.
Now that the kids are grown and gone, my twin problems have been overabundance and overwork. So we've scaled down to a little house on a city lot. I think a lot about what food plants will grow best here, what my husband and I most like to eat, and what we can produce that money can't buy. With limited space, my preference is sometimes for fresh food over preserved. If I'm to grow all the greens we love and can't find at the farmers' market, the kids may have to grow or find cucumbers and make their own darn pickles!   

The main way preserving has changed in recent years is that it's no longer old-fashioned. Preserving food–as well as growing it, gleaning it, and gathering it in the wild–is now a common pursuit for educated, urban young adults. Many are scientific-minded; they want to know the reasons behind methods and techniques. These new preservers tend to be experimental, too. Some are especially interested in fermenting vegetables, usually in small batches for quick consumption. Others are exploring the range of foods they can seal up in mason jars. It's hard for me to keep up with the demand for information and advice!
Sean Timberlake, Punk Domestics
A professional writer for 20 years, Sean started his personal blog, Hedonia, in 2006. Sean, who resides in San Francisco, launched Punk Domestics, a community for DIY and food preservation enthusiasts, in 2010, and is the Food Preservation Expert for About.com.

When I launched Punk Domestics six years ago, making preserves was a hot trend. We were still in the throes of a major economic recession, and many people had more time than money on their hands, so preserving food seemed like a great way to conserve money while building a pantry. Since that time, trends within preserving and DIY blog space have come and gone, or persisted. In 2011, we had Charcutepalooza, where hundreds of bloggers signed on to undertake increasingly complex challenges from the book "Charcuterie" by Michael Ruhlman and Brian Polcyn. In the last couple years, I've seen a huge increase in interest in fermented foods and beverages. This has been evidenced in more book titles on the topic coming out, as well as multiple products that enable it, like Kraut Source, FarmCurious Ferments, and others.
Charcutepalooza ultimately opened the door for me to bring groups to Italy in 2012, when we worked with a local butcher to turn a hog into multiple kinds of salami. I've since gone back with another group, and am returning this fall. We work with a local preserving artisan, make hand-rolled pasta, go foraging for porcini or truffles, and more. The food culture in Italy is fabulous, and there's a rich history of preserving.
For me personally, preserving has increasingly become a part of my everyday cooking routine. I did not grow up preserving, and so in the early years I made the mistake of canning scores of jars of jams, when I barely manage to consume a jar a year. Now, I only preserve what we'll use, plus a few other things for gifts or special occasions. That said, we still can 100 pounds of tomatoes every year — because we use them! We haven't had to purchase a jar of tomatoes in nearly a decade.
I have also jumped on the fermentation bandwagon. There's always a batch of sauerkraut or kimchi bubbling away in our kitchen, as well as a jar of preserved lemons mellowing in its salt brine, and I've got a continuous brew of kombucha going as well. Currently I've got a few wide-mouth half-pints full of a sort of St. Marcellin cheese curing, using a recipe from David Asher's book "The Art of Natural Cheesemaking." The products of these efforts become building blocks in our meals. Our tomatoes are used in soups, pastas, and pizzas. Preserved lemons lend brightness to practically everything we make. And we start each day with a glass of kombucha and a couple forkfuls of kraut to get the gut going.  
Sharon Peterson, Simply Canning
Sharon is a simple woman in love with her hardworking husband, and homeschool mom of 4 sons. When not homeschooling, taking care of her family, or working on Simply Canning she can be found in the garden  She calls it her happy place!  She loves simplicity and self reliance and that love flows over to food production in her kitchen too.  Join her at SimplyCanning for safe and fun home canning tips and tricks right from her kitchen. 
I didn't grow up canning with my mom or grandma. Mom did some canning with friends but I never participated. I love to garden and I learned home preserving after I was married and had a garden that kept growing and growing and growing. I started out with the easy things like tomatoes, because I had lots of them; and apples, because who doesn't love apple butter!
My mom offered me her pressure canner when she and my dad were downsizing from the farmhouse to a smaller home better suited to just the two of them. I almost said no! Then I had second thoughts and realized that canners were kind of expensive and maybe I better take it. I started pressure canning the next summer and look where I am now.
From basics like tomatoes and apples, I have branched out into vegetables and soups. After many years of learning and confidence building I've added canning meat. I sure wish I had started that much earlier. It is a freezer space saver for sure.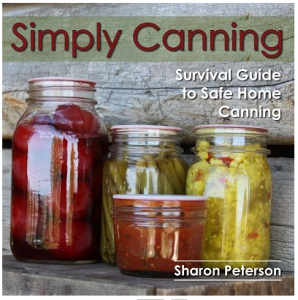 One thing I've learned is that if you are going to do a lot of canning, nice equipment is worth the cost. I'm thinking of my water bath canner. I started out with the black speckled granite ware canner it rusted and I upgraded to a gorgeous stainless steel water bath. Not required specifically but most definitely nicer! I've also upgraded to a larger size pressure canner so I can double stack pints and get more processed at a time.
SimplyCanning.com was started out as a hobby to share my love for canning and preserving and it has turned out to be an incredible blessing to me and my family. The people I have met over the years developing the site are amazing folks! So many times I've wished I could invite some of the ladies to my kitchen table to share a cup of coffee and some biscuits or toast with homemade jam.
Nancy Wiker Retired Extension Educator, Lancaster County
Nancy Wiker, was the Senior Extension Educator for Lancaster County Penn State Cooperative Extension, prior to her retirement in 2015. Nancy is a certified ServSafe instructor, and served on the food safety team with Penn State Extension.  She was the state co-chair of the StrongWomen/Growing Stronger program team, which provides nutrition and strength training classes in many counties in Pennsylvania. She holds a Bachelor of Science Degree and a Master's Degree in Extension Education from Penn State University.
My sister and I helped Mom can and freeze foods. Like most families at that time, we grew the produce in the garden and preserved it for the winter.  She used the processing methods her mother used. She did not have a pressure canner, nor did my grandmother. To store frozen foods, Mom rented a "locker" at a store in town and later we had a chest freezer at home.
Mom's boiling water bath processing times were different from today; she processed raw packed peaches for 10 minutes and raw crushed tomatoes for 20 minutes. Some foods, like applesauce and pickles were open kettle.  As long as I can remember, she used two-piece lids, except on jelly, which was sealed with wax.
Needless to say, many of her practices were risky. She canned because she liked to control the seasonings and food combinations that went into the jar. She was open to new research and did implement many changes over the years.
Her best advice was to clean the rim of the jar carefully before placing the lid. She was adamant that that was the secret to jars sealing properly. To me, home food preserving is honoring my heritage.
Today home food preservation is not an economical issue in most households, it has become a craft, with more gourmet appeal. The practice seems to have skipped a generation, perhaps when more women began to work outside the home and more prepared products have come on the market. Research has provided safer methods and more specific directions producing a safe and tasty product.  At the end of the season, when the shelves are lined with filled jars, it is a great feeling of satisfaction. Mom felt that way too: she took pictures of her canned goods.
What do you love about preserving?