Is your candle line growing? We hope it is! As with any growing business, there are important opportunities along the way to add value for your customers – both in the way of the physical product they purchase, in addition to the experience and engagement involved in that purchase.
Educate and encourage your customers in proper candle maintenance. Be sure to include burning instructions that are customized to the type and size of each candle. It may even impress your clients if you take the time explain what a melt pool is and why it matters to their enjoyment of their purchase.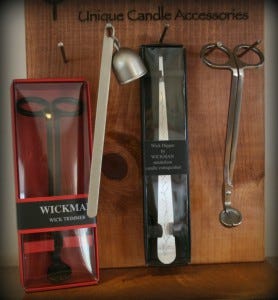 Take it a step further by offering the proper tools. Not only will they encourage proper care for the customer, but they are also good add-ons for candles purchased as gifts and could be bundled for seasonal events like Mother's Day or Christmas.
There are several ways in which you can extinguish a candle, and while you might not have a strong preference, there are some considerations. Wick Dippers are a great alternative to blowing out candles – no smoke, and the wick is primed for the next lighting. However, if your candles are dye-free or your wicks mushroom, the method used will have an impact on the amount of soot ending up in the wax pool. In these cases, consider a snuffer as a good solution to offer your customers.
If your wick requires regular trimming, offering wick trimmers which trim and catch the snippet to keep your wax clean will encourage proper burning.
Every candle should have a caution label or tag listing the key rules for candle fire-safety. A label should include basic instructions for burning a jar candle properly. We've just added new warning labels that include basic instructions for burning a jar candle properly.
The labels are professionally made in the USA using the best label material to form to the jar, strong adhesive to stay in place, and smudge-free printing.
Don't forget about those who are unable to burn candles because of housing regulations or fear of fire! If you haven't added wax melts or wax for warmers, you may wish to consider it. We do carry the Tart Clam Shells.
Lids and covers also add to the cost of your end product. Sometimes there are more choices, and although it may be more to manage, it could strengthen customer loyalty. You may wish to consider offering lid options – especially if you're using the CT style lids that are available in such a wide array of colors and styles (Olde tyme lids, colored lids, glass lids, daisy or star lids and more). If you feel like some of your customers, given the option, would rather have a dust cover for their candle, but official lids for the ones they'll be gifting, why not give them the option?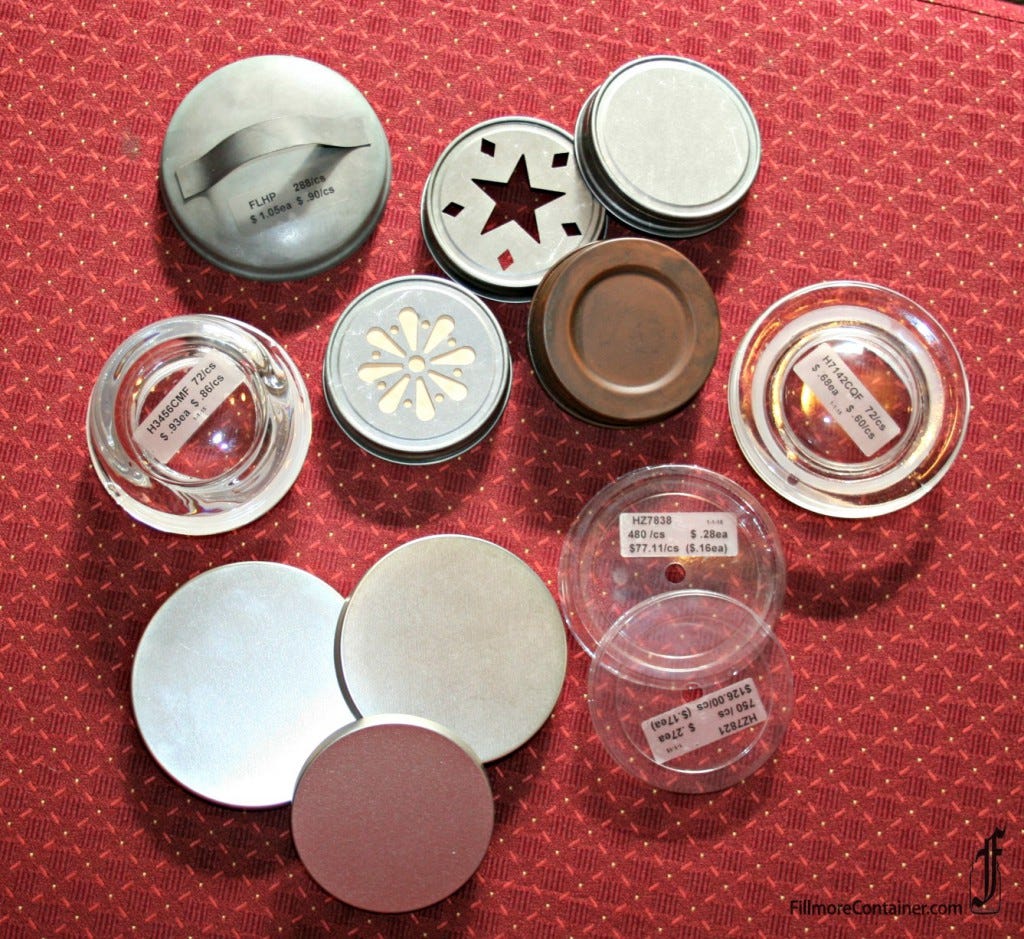 Encourage your customers to be environmentally aware by offering suggestions on how to avoid tossing the spent candle containers. Provide ideas for re-purposing the containers in their home or provide contact information for your local Craft Reuse Center or thrift shop (Lancaster Creative Reuse is always our referral). Consider offering an incentive for returned containers. (This isn't always practical, and does take a little time to manage, BUT if you have a very environmentally conscious customer base, could be a very good thing. Don't forget to be very clear about your standards for the return especially if you're offering a credit.)