We're quite excited to be carrying Autumn's cookbook, Beyond Canning! While it truly is a beautiful book, it also has much to offer in the way of recipes and tips for preserving. The book contains three topics… Sweet Preserves, Pickles, and Fermentation. So if you're wishing to expand your preserving in more than one direction, you're in luck!
I'm also drawn to the manner in which the recipes are laid out – I find it oddly comforting in some way, as if everything is in its place. (Perhaps it's the amount of time I spent maintaining science lab journals – back in the day when we had those black speckled bound composition books in which we had to document (in writing) each experiment with prior research, materials, procedures, etc.)
If you've had some experience in preserving, many of her recipes offer a different approach – either by process or ingredients – that change up the flavor profile a bit. Chances are, you'll not only become infatuated with some of her recipes, but they will inspire you to make some changes on your own! Often, spices are not a required part of the preserving and we often forget (or it doesn't occur to us) that they can be adjusted to suit our preferences.
Smoky Carrot Coins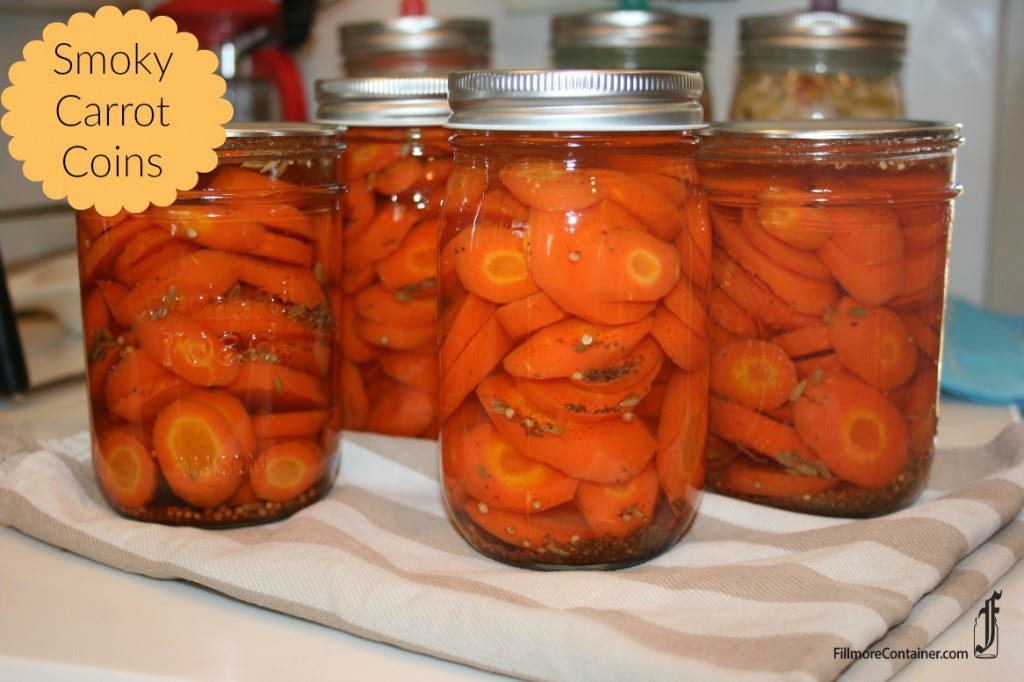 Autumn's recipe for Smoky Carrot Coins (which are pickled) do not contain any garlic, which isn't a big deal unless you've got some eaters in your home who aren't crazy for it. My children don't love it…and I'm not crazy over intensely garlicky pickles. Since we've become staunch fans of the smoky version of salt, this recipe is now on the top of my list. However, when I went to make these beauties, I had smoked salt, but not smoked paprika, so I used both….but the smoky component came from the salt instead of the paprika. I realize it wasn't an equal swap, but since it wasn't going to have an impact on the safety, I justified it. (The recipe below is the original one from Autumn's book.)
Ingredients
¼ teaspoon each of whole yellow mustard seed, fennel seed, celery seed, smoked paprika, and crushed red pepper
1 pound carrots, peeled and cut into ¼ -inch-thick coins
2½ cups apple cider vinegar
½ cup sugar
½ teaspoon salt
Materials
Basic supplies for vinegar preserves (available on page 78 of her book).
When following a new recipe, I usually stick to what's there on the page. I'm so accustomed to being prompted by the general "prepare water bath, gather jars and lids, jar lifter, magnetic lid wand, and any other of your canning essentials". Autumn refers the reader to a section in her book that covers some basics for that particular preservation method rather than covering it with each recipe….which I appreciate, after all, it is Beyond Canning! However, since "page 78 of her book" isn't available in this venue, this is where we prompt you to prepare your water bath and gather your essentials!
Yield: 2 pints
Place ¼ teaspoon each of whole yellow mustard seed, fennel seed, celery seed, smoked paprika, and crushed red pepper in each prepared pint jar.
Divide the peeled and prepped carrots between the 2 jars. You can shake them from side to side to help the contents settle.
Bring the vinegar, sugar, and salt to a boil over high heat, stirring to dissolve the sugar and salt.
Pour into prepared pint jars, leaving ½ -inch headspace. Wipe rims. Place the lids on the jars and screw on the bands until they're fingertip tight.
Process in a water-bath canner for 15 minutes, adjusting for altitude if needed.
After 24 hours, check the seals. Label, date, and store out of direct sunlight without the bands for up to a year.
Instagram Takeover & a Giveaway!
If you're inte
rested in more delicious inspiration from Autumn, she's taking over our Instagram account today, February 18, 2016. Be sure to follow along, like and comment on our Fillmore Container Instagram account, where she'll be sharing tips, her favorite Fillmore products, and details about her book.
Don't forget to show Autumn some love on her Instagram AutumnMakes and follow her edible adventures on her blog Autumn Makes and Does!
Beyond Canning Giveaway


(Giveaway is over)



One lucky winner won a Beyond Canning kit which includes all the fun items listed below from Fillmore Container, plus a copy of Beyond Canning.
Beyond Canning
1 case Orchard Road 16oz wide mouth Jars with Lids
1 case Orchard Road 8oz Jelly Jars with Lids
1 ReCap Flip Cap (winner chooses color)
1 Fermenting Kit = 1 wide mouth Quart Jar, 1 Pickle Pipe, 1 Band, 1 Pickle Pebble, 1 iLID Storage Lid
Save
Save