Our friend Malia from Yesterday on Tuesday is having fun with some of our pantry jars. She filled our Queenline Glass Jars with some of her kitchen staples, and she made the cutest pantry labels to go with them!
The Queenline Glass jars have an attractive design with ribbed corners which was originally meant to prevent air bubbles and add strength to what was (and still is) a classic honey jar design. Even though these jars were historically made for storing honey, they have taken on a new life as part of our pantry jar collection. If you are looking to reorganize your pantry items using glass jars, here's an overview of a few of our other favorite pantry jars.
Cracker Jars
Cracker Jars make a great addition to the pantry for food & snack storage or even a cookie jar. The traditional styling will remind you of a country store, making them a pretty addition to your counter. If you'd rather place them in your pantry the square shape of these jars will take up a bit less room than a circular jar, which makes them fit nicely together on a shelf. The wide mouth opening makes it easy to scoop in and out of often. The jars come with a brushed silver lid and are available in 32oz, 64oz, (half gallon) and 128oz (1 gallon) sizes.
Montana Jars
Our Montana Jars are also a great choice for pantry items. These jars feature an attractive fitment lid, in black or stainless steel. The wide mouth openings make these jars ideal for scooping out cups of flour, sugar or whatever you fill them with. The attractive design of the Montana jar and lids make for an attractive display on your counter or in your pantry. The Montana jars are available in the following sizes 64oz (a half gallon), 192oz (1.5 gallons), 320oz (2.5 gallons) sizes.
Heritage Hill Jars

Our Heritage Hills Jars are a favorite of many! Perfect for the pantry, and they even look great dressed up for special events and for gifting too! The crystal clear body and a vintage-style closing lid, make this glass jar a nice storage solution for any kitchen. Available in 64oz, (half gallon), 128oz (1 gallon) and 248oz (2 gallon) sizes.
Label Your Jars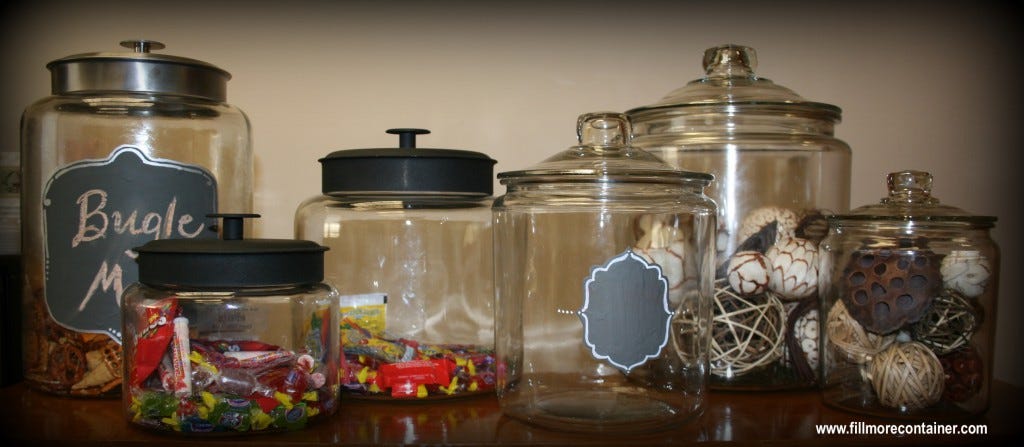 Yesterday on Tuesday has some great Pantry Labels to dress up your jars, and we also love using chalkboard paint to label our jars. Here's how to do it yourself.
Save
Save