Yesterday, we enjoyed a very informative session with Richard Kralj, M.Ed, RDN, LDN a Food Safety & Quality-Senior Extension Educator with Penn State Cooperative Extension, on the basics of pressure canning. We'll share some tips we learned in a future post. We also welcomed Amanda Feifer, the fermentation educator and author of Ferment Your Vegetables, to our booth. She shared some recipes and answered lots of questions about fermenting! We are sharing one of the recipes from her new book – Winter Herb Kvass (see below).
January 14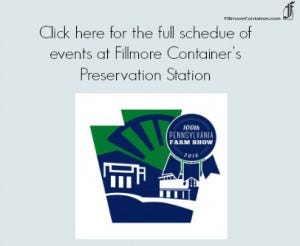 Amanda Feifer, the fermentation educator and author of Ferment Your Vegetables, will kick off the day at the Family Living Main Stage. Amanda will continue fermentation demos throughout the day at Fillmore Container's booth. Lisa Reinhart will close out the day with Apple Maple Jam from Preserving with Pomona's Pectin.
10-11am Beet kvass@ Family Living Stage
1:30pm Fun with Sauerkraut
3:00pm Yogurt and Kefir
4:00pm Pickled Vegetables
Winter Herb Kvass
Excerpted from Ferment Your Vegetables by Amanda Feifer (Fair Winds Press, October 2015).
The city of Geneva, Switzerland, might as well be the set of a spaghetti western for the number of tumbleweeds that roll through town during ski season. With snow falling in the nearby Alps, residents flee to the hills, snowboards and skis in hand. I've never enjoyed being cold or falling on my butt, so my go-to activity when I lived in Geneva was to accompany friends up the hill. While they skied, I hiked through the snowy pines and soaked up the winter sun. Each intensely herbaceous and woody gulp of this kvass reminds me of pine trees and sunshine on the chilly slopes.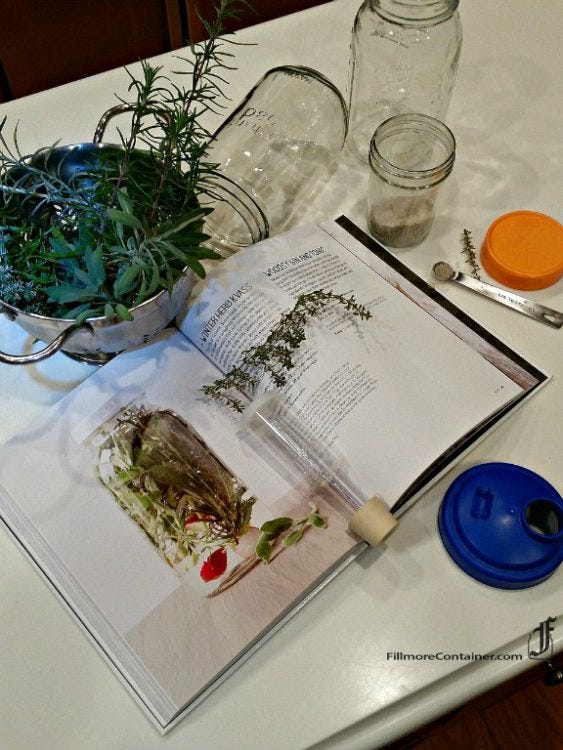 Ingredients
1 large radish, sliced into 3 pieces
1 large bunch (60 g) fresh thyme
1 large bunch (60 g) fresh rosemary
1 large bunch (60 g) fresh sage
1/4 teaspoon sea salt
3 quarts (2820 ml) filtered water
Place the radish, whole herb bunches, and salt into a 1-gallon (3.8 kg) jar and pour the filtered water in until the jar is full to 2 inches (5 cm) below the rim, or fill all the way to the rim and place in a bowl for the entirety of the fermentation. Cover your jar, making sure it can vent CO2, and leave to ferment at room temperature for 5 to 7 days. Strain the liquid into a clean jar and chill before drinking. This mixture may be fermented for longer than 7 days, but the flavor starts to become quite woodsy.
Yield: 3 quarts (2820 ml)
We recently tested this recipe from Amanda, using the last remaining herbs from our garden. We tried one batch with the white plastic lid resting on top of the jar and one with our reCap, rubber stopper and an airlock. While it was impossible to create identical environments inside both jars, we are curious to see if they exhibit any significant variations.
Are you just getting started on your fermenting journey? Check out all our ferment gear here.
Giveaways
We hope you'll stop by and see more great recipes, being demonstrated at our Preservation Station. Don't forget to enter two great giveaways we have happening! Win a Fermenting Kit or a Canning Kit.