A big thanks to Marisa McClellan for joining us at the PA Farm Show, on Monday and Tuesday. She made her recipe for Pear Ginger Conserve, from her book Food in Jars, and it was so fantastic we've asked if we could share it with all of you! See the recipe below.
We still have lots happening at our PA Farm Show Preservation Station for the rest of the week. Here's our schedule for today.
January 13
Pressure Canning
Richard Kralj, M.Ed, RDN, LDN a Food Safety & Quality-Senior Extension Educator with Penn State Cooperative Extension will teach the basics of pressure canning, including meats. See his main stage demo on 1/13 at 1oam.
Fermentation
Amanda Feifer is the fermentation educator behind the blog Phickle.com and book Ferment Your Vegetables. She teaches classes on topics ranging from hot sauce and miso to sauerkraut and kombucha. Her demos at the PA Farm Show will explore popular fermentation topics including, kefir, kombucha, pickling and more.
10 -11am Pressure Canning with Penn State Cooperative Extension @ Family Living Stage
1:30pm Probiotic Pickled Vegetables
3:00pm Kombucha
6:00pm Fun with Sauerkraut
Pear Ginger Conserve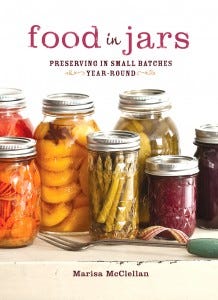 "Recipe reprinted with permission from Food in Jars © 2012 by Marisa McClellan, Running Press, a member of the Perseus Book Group."
Makes 2 pints
Ingredients
6 cups cored and chopped Bartlett or Bosc pears (about 3 pounds whole pears)
1 whole orange, seeded and finely chopped
3 cups granulated sugar
1 lemon, zested and juiced
1 tablespoon grated ginger (from about one 2-inch piece)
3/4 cup chopped walnuts
Prepare a boiling water bath and 2 regular mouth pint jars. Place canning lids in a small saucepan of water and set to the barest simmer.
In a large non-reactive pot, combine the pears, orange, and sugar. Bring to a simmer. Add the lemon zest, juice, and grated ginger and stir to combine.
Bring to a boil and cook until the syrup turns translucent and the pears are soft enough that you can crush them with the back of your spoon.
Stir in the chopped walnuts and cook for an additional 5 minutes, stirring frequently.
When the conserve is finished cooking, remove pot from heat. Fill jars leaving 1/2 inch headspace. Wipe rims, apply lids and rings, and process in a boiling water bath for 10 minutes.
Giveaways
We hope you'll stop by and see more great recipes, being demonstrated at our Preservation Station. You can find our full schedule of demos here. Don't forget to enter two great giveaways we have happening! Win a Fermenting Kit or a Canning Kit.