We thoroughly enjoyed getting to know author, Amanda Feifer, at the PA Farm Show last year and soaking in some of her fermenting knowledge. (She'll be joining us again this year!) Naturally, we were anxious to offer her recent book Ferment Your Vegetables along with some other basic fermenting tools.
If you haven't gotten the chance to leaf through it or to read a few of the many wonderful reviews, we're sharing a peek and we're giving away a copy along with a nice fermenting kit to help you get started on your delicious probiotic adventure!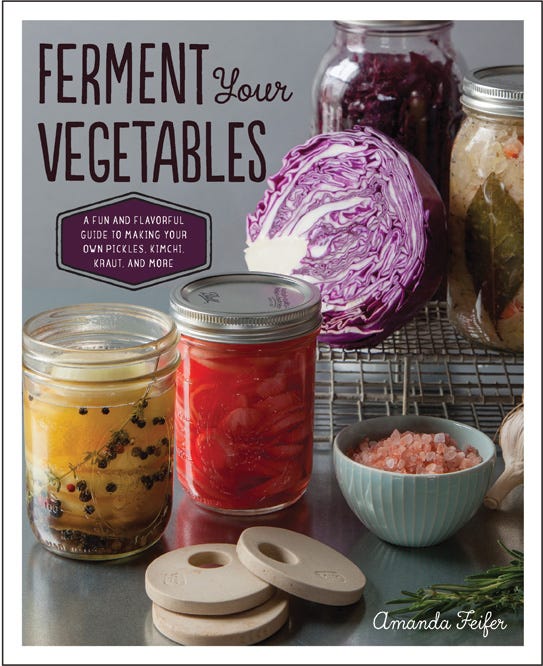 While Amanda's blog Phickle covers fermenting of just about anything worth eating or drinking, Ferment Your Vegetables covers a lot of ground on fermented vegetables. It is packed full of easy to follow how-to's for fermenting pickles, kimchi, kraut, kvass and the like with the added bonus of recipes for putting those wonderful live foods to work in incredibly tasty ways. Even if you've not taken the leap to fermenting, her "you can do it" approach, thorough instructions, tips for those FAQ & concerns and the brightly colored images will draw you in!
We also appreciate her take on equipment…you can do a lot of fermenting without expensive gadgets and she shares tips on using what you probably already have in your kitchen. There are a few things that make the fermenting easier, but they aren't absolutely necessary for things to go well.
Admittedly, there are many recipes from Ferment Your Vegetables that are on my list to make…but the 2 at the top were Amanda's Curried Cauliflower Picnic Salad (using the Curried Cauliflower Pickles) and the Winter Herb Kvass. We will share the Winter Herb Kvass recipe after the PA Farm Show.
To make the Curried Cauliflower Pickles, simply follow this recipe from Ferment Your Vegetables. This recipe offers a basic recipe for fermenting vegetables, with the addition of 1 TBS of Curry Powder.
Curried Cauliflower Pickles
1 tablespoon (6.3 g) curry powder
Half a head (340 g) of cauliflower, chopped into small florets
1 tablespoon (18 g) kosher salt
2 cups (470 ml) filtered water, at room temperature
Place the curry powder in the jar, then add the florets. Florets may need to be maneuvered a bit to fit, but don't push them so hard that they break apart. Mix the salt and water until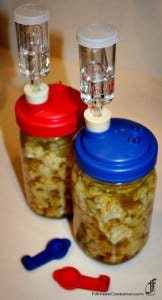 dissolved and pour this brine over the florets, pressing them down with clean fingers to make sure they're submerged. The jar should be full to about ¾ inch (2 cm) below the rim.
Using your preferred method, submerge your veggies and cover your jar.
Place your jar on a small plate or bowl and allow to ferment at room temperature for 10 days to 2 weeks. Once fermented, remove the weight, secure the lid, and place the jar in the fridge.
Yield: 1 quart (900 g)
Tips For Nice Florets:
When slicing for smaller florets, slice from the stem end toward the floret. Once your knife reaches the floret, break it apart instead of slicing all the way through.
When putting them into your jar, you may need to jostle them around a bit with a chopstick, but don't force them to the breaking point.
Once your Curried Cauliflower Pickles are ready you can serve them alongside seasoned rice dishes, or in winter salads. Or make this Curried Cauliflower Picnic Salad from Ferment Your Vegetables.
Curried Cauliflower Picnic Salad:
1/3 cup (75g) mayonnaise
2 teaspoons (10g) Mustard (Dijon or a sweet hot mustard)
1 quart of Curried Cauliflower Pickles (drained)
2 stalks of cleaned, trimmed, chopped celery
2 scallions, trimmed and sliced
Combine the mayo and mustard in a large bowl. Add the cauliflower pickles and gently toss to coat them. Blend in celery & scallions. Best served chilled.
It makes a tasty, unique and super healthy side dish!
Ferment Kit Giveaway:
One lucky winner will recieve a Ferment Kit with the items below from Fillmore Container and a signed copy of Ferment Your Vegetables. Use the Rafflecopter widget below to enter! Want to build your own Ferment Kit? Check out all our ferment gear here.
A copy of Amanda's book Ferment Your Vegetables
1 case of Widemouth Orchard Road Quart Jars
2 Airlocks
2 reCap Widemouth Pour Caps (Winner chooses color)
2 iLID Storage Lids- Wide Mouth (Winner chooses color)