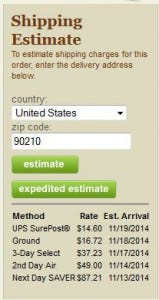 It's hard to imagine, but the holiday shopping season is here! It is very important to us that you receive all your orders when you need them. Here are a few tips to help ensure your entire order arrives as expected.
#1. Order early to allow for unforeseen delays! Winter happens and weather trumps delivery guarantees with carriers. Peak holiday shipments also cause delays.
#2. Use our shipping estimate tool to determine estimated arrival dates, and to determine which shipping method will work best for you. You'll find the shipping estimate tool in your shopping cart. If you are wondering about shipping discounts, or why we don't offer "free" shipping, it's important to read this.
#3. Double check your order to ensure the lids will fit the style of jars you've selected. When ordering jars, the matching lids will be listed on the right-hand side of your screen under accessories. Be sure to also make sure you've ordered the proper number of lids for your jars.
#4. Get home delivery on your schedule with the new My Choice Program from UPS. It is simple to register, and it's free! You'll get alerts a day in advance of any UPS shipment coming to your address, have the option to instruct where to leave your package, sign for packages online if you might not be home, or even have them leave it with a neighbor (within walking distance). You only pay nominal charges if you change the delivery address (like to your work address), need to change the delivery date, upgrade the service level, or need a 2-hour delivery window.

#5. Re-Stock Alerts. We do our best to anticipate the needs of our customers, but we can't always control the efficiency in which our manufacturers produce and distribute their products. We apologize if we are out of stock of your favorite item. Once it is back in stock, we will announce on our Facebook page.
#6. Check out to ensure you get the items you want. Items placed in a shopping cart are not reserved. We cannot guarantee the stock of a product until the purchase is made. Once you've gone through the checkout process, you can be assured your items are being pulled from our shelves just for you.
#7. Provide a valid email address when checking out to receive a shipment tracking email, and track the timeline for delivery once it leaves our facility.
#8. We celebrate the holidays, too (plus the ever-popular year-end inventory reconciliation)! Please note that we will be closed on November 26 & 27, 2015, and December 24, 25, 30, 31, 2015, and January 1, 2016.
#9. Use our gift guides to help you find the perfect gift for almost everyone on your list!