I am quick to admit that it is very satisfying to see my countertop lined with cooling jars, and then to know that I can grab one just seconds before the contents are needed for a meal or snack. It is enjoyable to browse the shelves of preserves & choose a few jars perfect for a hostess gift, to say "Thank you!" or to brighten someone's day.
However, on some days and with some items, freezing just works better in our home. So, we both freeze and can – because we're able and because both preserving methods help us reduce spoiling & waste. The choice to be OK with freezing instead of canning something may mean the difference between preserving it for later or it being destined to the worm pile. Sometimes, it simply means that I will have time to spend in other ways – like enjoying some game time or a walk with my family or to get a better night's sleep.
As a general rule, I've found that it really only makes sense to preserve what you & your family enjoy and what you're confident you'll use. It is disheartening to see containers of preserved foods sit so long that they become less than optimal. This may be why people who quickly go gangbusters with preserving may lose steam – it takes too much work to preserve things only to end up pitching them in the end! If you're trying some new things, try it in small batches. It will feel much better at the beginning of your next growing season to contemplate how you might grow or source more of something for the coming year than to look at your shelves filled with items that just haven't been enjoyed and may end up going downhill.
For most people, freezer space is more limited than "shelf" space. However, I've found that when I'm able to plan ahead for more of my meals, it allows time to thaw frozen items. I'll save the canned tomatoes for when I'm short on time. It turns out, that if I'm just going to freeze something, my batches are not as large because I'm not pulling out my canning tools.
Here are some of the items that I often end up freezing.
Pumpkin/Squash:
I've never grown these but am confident that every year, I'll have plenty because my dear father who frequents the local produce auctions delivers them to our home and stores the extras in his barn. We cut them in half, scoop out the seeds and roast them in the oven – 375 for about an hour. The time may vary due to size. I usually check them with a fork to see that they're soft through to the skin. After they've cooled enough to handle, I scoop the meat out and into freezer jars or containers, allow them to cool for an hour, then lid, label and freeze. TIP: Freeze this in the volume your recipes call for most frequently.
Roasted Tomatoes: Here's how we make them.
Quartered & Cored Peaches: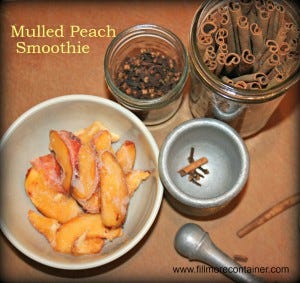 When peels are not cooperating or I don't have the time – we core them and freeze them for smoothies. Our vitamix does such a great job you don't even know they're there. These also work well for making Marisa's Peach Butter or a Peach Sauce if you break those peels up with an immersion blender.
Berries:
Strawberries and blueberries are wonderful for smoothies or winter time jam making.
Greens:
If you have an excess of swiss chard, spinach or any other greens, here's one way that we like to save them for later. Clean the greens and stem as needed, throw the greens in the blender with a enough water to puree. Once pureed freeze in ice cube trays. Add 1-2 cubes to the blender when making a fruit smoothie. TIP: Add a squeeze of lemon to your smoothie to soften the bitterness of greens and the kids will never know they got an extra serving of veggies!
Herbs:

Don't forget your herbs! Freezing herbs is so easy, and you'll thank yourself later. Here's some tips for freezing and preserving chives.
Pureed Veggies for Baby:
When my kids were babies, I'd often steam a few extra servings of choice vegetables and freeze them so we didn't have to buy baby food from the store. We saved a lot that way, and the babies loved it! Here's how we did it.


Applesauce Pods:
Our kids love these! They put the frozen applesauce pod in their lunch bag in the morning or the evening before if it's refrigerated and by lunch time, it's their favorite…slushy applesauce!