Today we're thirsty and we're talking about shrubs. No, not the green, leafy kind that grows in your yard. The acidic yet refreshing beverage enjoyed by many for CENTURIES. Crazy, right?
Shrubs are an acidulated drink that stems from almost as early as the Middle Ages and was drank in the Middle East in hot weather for thirst quenching. These citrus-based drinks eventually made their way to Europe via the trade routes, where folks used shrubs to dilute badly tasting liquors or strong punches. In Colonial times, the early American settlers adapted the drink in order to help preserve fruits and began using vinegars. The word shrub then came to be known to include both the vinegar and citrus versions.
If you haven't heard of this kind of shrub, there's a reason. They fell out of popularity during the early 1900's when preservation methods, such as refrigeration and pressure sealing became available. If you're from our area, you might have stayed in touch with this timeless drink. The Pennsylvania Dutch have been keeping the tradition of shrubs alive!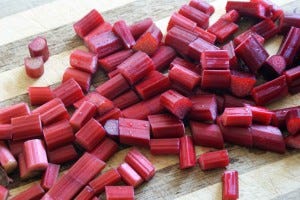 It wasn't until the late 1980's when a local farmer, David Tait of Tait Farms needed something to do with his bumper crop of raspberries. A friend recommended an old Pennsylvania Dutch recipe and well, the rest is delicious history! Other farm stands caught on, and inevitably, so did the Wall Street Journal. Cocktail aficionado and journalist, Eric Felten discussed shrubs in a 2004 article and thus shrubs were launched back into the limelight.
Today people are using shrubs in all kinds of creative ways; mixing fruit and veggies, herbs and spices, flowers and nuts, for marinades and dressings and cocktails. Your imagination is the limit really! If a flavor profile tickles your palate, then it would work well in a shrub.
As far as a recipes go, you can try the standard ratio of 1:1:1 (fruit : sugar : vinegar). For those that would enjoy fruitier flavors with less sweetness, try 2:1:1 (two parts fruit : one part sugar : one part vinegar). This ratio will still capture some of the tartness, much like a refreshing lemonade.
As fruits and veggies come into season, use them to inspire your shrubs. Recipes are very flexible and can be made via a cold or hot process, using fruits for a sweet shrub, or tomatoes and veggies for a savory shrub.
Mason jars are perfect to macerate your fruits and sugars or to infuse vinegar with herbs and spices, or enjoy them in style with our Mason Jar Handled mugs, our paper or stainless steel straws and jar toppers.
There are some wonderful histories and recipes out there on the shrub. Tait Farms has a wealth of recipes, and you'll find recipes for a Black Raspberry Shrub and a Blueberry Ginger Shrub over on Food in Jars.
We hope we've inspired you to investigate a little further and maybe even experiment by taking a shrub class! We carry Linda Ziedreich's book The Joy of Jams Jellies and other Sweet Preserves which includes recipes for Blackberry Shrub and for Raspberry Shrub.
Local shops such as Lemon Street Market and Prince Street Cafe have shrubs on their shelves and menus if you're not in the mood to do the preparation. And if shrubs just aren't your thing we have other refreshing drink ideas here and from our friends over at Phickle!
Happy shrubbing!