It really can be a winning combination! Our children love peaches….really love peaches. They also loved the peach vanilla jam I made last year – which morphed into an even more incredible ice cream topping. So when we came home with a bushel of gorgeous peaches, Marisa McClellan's Peach Vanilla Jam was on the docket and I suggested we try some different recipes as well. They were all eager to help out.
*Warning: involving kids in the process of growing, preparing or preserving food may result in a higher than average interest and awareness toward the foods they eat.
The night before, I tackled the task of peeling the peaches – which were huge and sweet!
I've not always had great success with peach peeling (one of the reasons we enjoy frozen ones) but I must admit that it was a pleasure peeling these!
I scalded 3 at a time in boiling water for 30 seconds, then plunged them into a bowl of ice water. As soon as I could handle them, I'd slip those skins off.
TIP: Since I knew we'd be using the peaches in 2.5lb batches, I took the opportunity to weigh out the first 2 batches to save some time in the morning.
First we made Peach and Ginger Jam out of Linda Ziedrich's book Joy of Jams, Jellies and other Sweet Preserves.
I'm still nervous about my children using knives, but it takes a while to get comfortable holding one properly for the task at hand. So when there are small jobs that I feel they can handle, I try to offer it up to them. Yes, it may take a little longer, but the practice is good.
This jam is very simple, but the addition of the ginger adds that little zing that makes it stand out without tramping on the flavor of the peaches. It got a big thumbs up from our oldest.
Next we made Marisa McClellan's Salted Brown Sugar Peach Jam from her second book, Preserving by the Pint.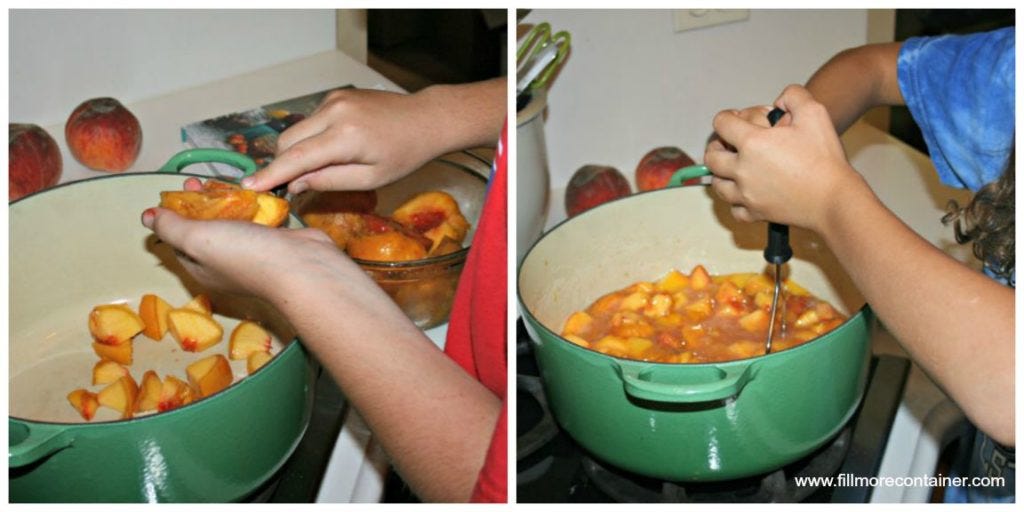 More cutting and smashing of peaches. Although these two tasks were high on the fun-o-meter for my helpers, it also gave us the opportunity to discuss why we bother to cut and or smash fruit, as well as why we don't just zap it with our immersion blender.
Measuring and pouring tasks were on high demand. Since we were using both brown and white sugar in our jam session, there were questions about what "packed" meant, and why you packed the brown sugar, but not the white.
This is the first time we'd tried a salted preserve and were quite happy with the very salty caramel-y flavor and the rich hue of the finished jam.
Lastly, we did a couple of batches of Marisa McClellan's Peach Vanilla Jam – which is really the Peach Jam from her first book, Food in Jars; with the addition of vanilla beans. It has become a staple in our jam selections.
We will need to get some more peaches to make Maple-Vanilla Peach Jam from Preserving with Pomona's Pectin by Allison Carroll Duffy.
How do you involve smaller helpers in your kitchen? Do you have any tips for managing those extra hands? We'd love to hear from you!
Tip: If you choose to order any of the books mentioned above, and want to optimize shipping for a book only order, select UPS Ground and leave a comment on your order "SHIP MEDIA MAIL" and we will charge a flat $5 for shipping.