It's time to jump into jamming season, and we've partnered with Pomona's Pectin to help you get started.
Two very lucky winners will receive
Pomona's Pectin is a sugar-free, preservative-free, low-methoxyl citrus pectin. If you are looking for a way to cut back on the sugar in your preserves, this is the pectin for you! It allows you to sweeten jam & jelly to your taste with low amounts of any sweetener.
The book, Preserving with Pomona's Pectin, boasts recipes for more than 70 jams, jellies, preserves, conserves and marmalades…all with intense natural flavors without all of the added sugar!
The book is filled with tips on making the best out of your preserving experience, wisdom on how to safely and effectively customize your recipes and color images to inspire you! For instance, this chapter takes on some of the science of canning preserves in a thorough, but manageable level. If you feel like you're new to canning, it's written in such a way that the idea of trying a different pectin isn't overwhelming. There's even a table that gives weight and unit or volume equivalents. For example – if your recipe calls for a pound of kiwi, about how many kiwi will that be? Well, according to their chart, 5 – 6 medium kiwis. I do have a scale in my kitchen, but this is even more helpful for me when I'm heading to the market or am trying to determine whether or not I have enough fruit on hand for a particular recipe.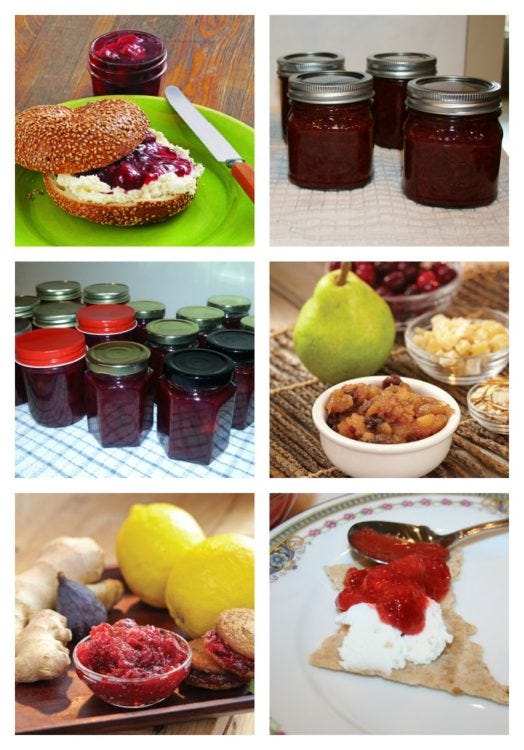 Here are a few jam recipes where we've enjoyed using Pomona's Pectin:
Low Sugar Strawberry Vanilla Jam
Pear-Cranberry Conserve with Almonds and Crystallized Ginger
GIVEAWAY DETAILS
Two very lucky winners will receive
This Giveaway is open to residents of the U.S. and Canada, 18 years and older. Everyone gets 2 free entries; additional entries are also possible. The entry dates are from June 10 through June 17, 2015. Winners will be randomly chosen. Winners will be notified by email and will have 48 hours to respond or we will choose new winners. The names of the winners will be posted on the Pomona's Pectin website blog 48 hours after the giveaway ends.
Enter the Giveaway using the Rafflecopter widget below.
a Rafflecopter giveaway