Veteran judges, Louetta Hurst and Vicki Becker, have seen their share of judging. They've shared their expertise at many local & county fairs and we caught up with them at the PA State Farm Show. For a couple of years, now, we've been participating in the PA State Farm Show. This year, however, I was invited to attend the judging portion of the Home Canned & Preserved Goods, and you can bet I didn't turn down that invitation!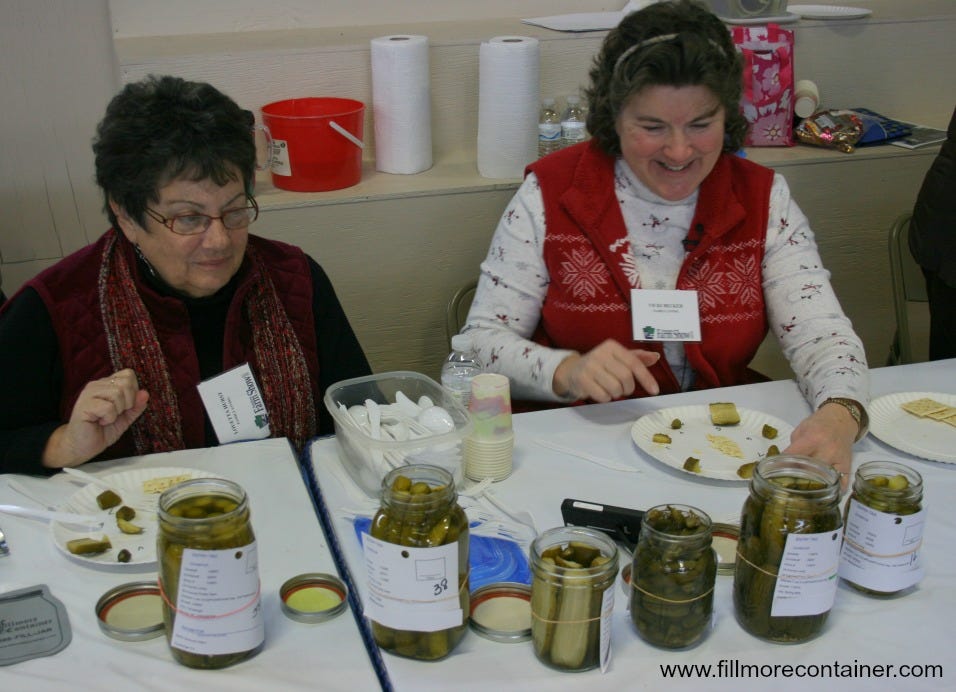 While we weren't able to catch the judging for all of the Preserved Goods Class, we were able to observe and listen in as throughout the judging process and after placements were assigned, could discuss the details of why some won and others didn't. We know that as you gain confidence in your canning, you may want to try your hand at your local fair and wanted to share some tips with you.
Before the tips, though:
Judging is tougher than many imagine. Judges are governed by the descriptions, rules and classes published in the Fair Books. Please take it easy on them!
These first 4 tips apply to all canning entries:
Use New Rings
Even though your preserved goods should be stored without the rings, their presence is required in order to enter them. Thus, they become part of what is judged. Judges don't like rust. If they see rust on a lid/jar, it is out of the running, no matter how lovely the contents appear.
Start with Quality Produce
Use Premium Produce: Bruised or blemished products can be unpredictable during preservation – especially when it comes to appearance & texture.
Use Ripe Produce: Both under-ripe and over-ripe produce can result in less than perfect end product – in appearance, texture and taste.
Pack your Produce Well
Take extra care with how you pack your produce into your jars. If you've passed the ring test, the general appearance of your product is up next. They won't even get around to opening your jar if it doesn't look like a potential winner.
Headspace – if you're here, you know what this is. Be sure that you've got the proper headspace for the contents, size of jar and process.
Don't Cheat – This may seem obvious, but every year, there are entries that make this tip necessary.
Do not attempt to alter the color by adding colorants – natural or artificial. If the contents appear to be artificially altered, the entry is out.
Do not under-process in attempt to maintain texture or color. Certain types of produce just don't handle high temperatures for the duration required and they fade. This will happen. Judges know this and are naturally suspicious of entries that exhibit colors or textures that are out of the norm.
Pickled Items:

Crispness (find some tips on maintaining your crisp factor here)
Proper Size – for the jar, for the type of pickle, and be consistent.
Consistent length – If you're cutting your produce, use our cutting board hack to ensure each piece is the perfect length. This is also helpful if measuring green beans for dilly beans!
Do not use those little pieces to fill in the top or to try to avoid floating. (Keep those for your "use at home" jars)
Have enough brine so that all contents are fully covered.
Good Taste. Yes, this is open to interpretation, but be sure it tastes like what it's called.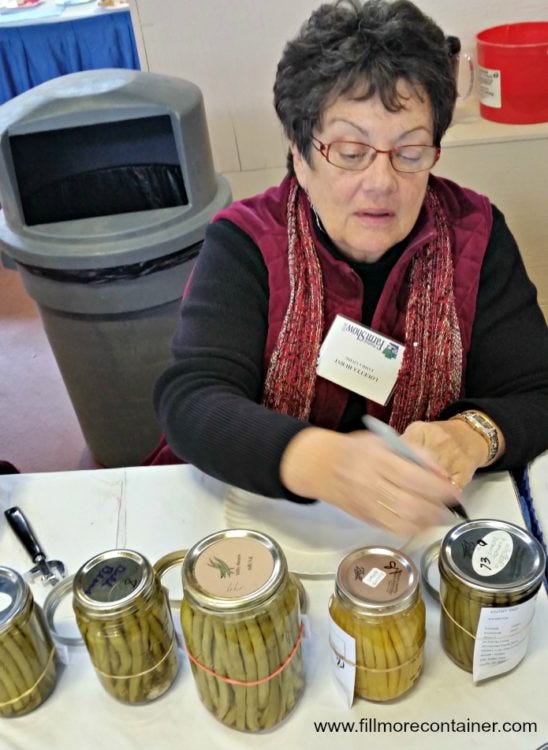 Tomatoes: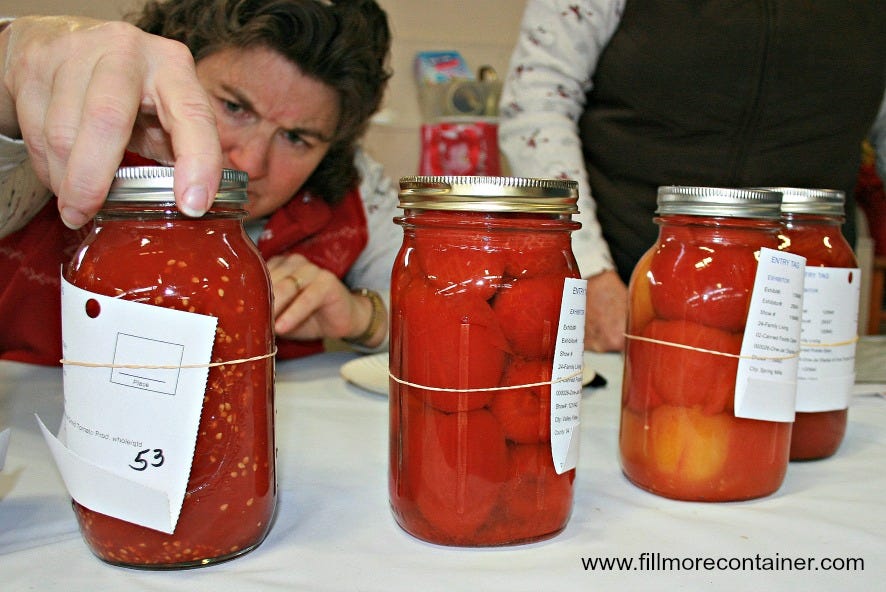 We had some discussion on this – most fair books contain the category "whole or quartered tomatoes". If you have the choice (based on your tomatoes) go with the whole. They tend to hold their structure better through the canning process and will "show" much better than the quartered.
Avoid feathering. This is often a result of over processing, but sometimes over-ripe produce. While it is important to follow the processing times, you'll want to take care that you don't allow jars to spend more time in the canner than required. *Please note: we are not suggesting that you cut any corners!
Coring: Cored tomatoes look nicer, but don't hold their structure as well as ones that are not cored. If you decide to not core, simply place your cores toward the center of the jar so they're not visible. It's not cheating; it's just placement & presentation.
Carrots, Corn, Peas:
Avoid Particles & Cloudiness– careful slicing, picking out fragments or broken pieces and not over-processing will help decrease both of these.
Sauerkrauts & Relishes:

Brine Coverage: Be sure that you have enough liquid present so that contents are not exposed.
Jams:
Presence of seeds – most judges do not like seeds. (I personally think that's part of why I like jam over jelly, but I'm not a judge!)
Good Consistency – not too solid, not too runny
Chunkiness – small fragments of fruit is acceptable, but they frown on large chunks.
Clean lid – if there is jam on the lid, it would suggest that it was imperfectly handled during processing. They're looking for a clean lid!
For some of you, this is where "Canning for your Home" and "Canning for the Fair" part ways. It's really up to you how much effort you wish to invest. One exhibitor admitted that she sorted through bushels of beans in order to get enough of the perfect length for her fair jars.
We wish you the best as you preserve your foods this season – whether you're canning to show at your local fair or stocking your pantry to feed your family. If you do enter and win, we'd love to hear from you! On the other hand, we certainly won't pass judgement if you plan to stick to the simplicity of stocking a pantry of tasty goods!