Please read our most recent post about Free Shipping here.
---
We get this question fairly often, and in light of the Amazons of the world, it's not surprising. While some retailers have felt compelled to offer this as part of their marketing model, there is a simple fact that cannot be ignored.
FACT: Neither UPS, FedEx nor any other carrier ships anything for free.
So, when companies offer "free shipping", where does the money come from to pay the carriers?
ANSWER: The pockets of every one of their customers.

Companies who are offering "free shipping" have simply built the cost of shipping into their product pricing in order to maintain the margins they need. The result: consumers pay more for products than they would have without "free shipping".
In addition to the built in cost of shipping, many of these big retailers have less than favorable conditions for warehouse employees. Listen to this NPR story True Stories of a Warehouse Worker, or read the full article here. This will shed some light on how those packages arrive at your door so quickly, and for free. It also reinforces our policy and the reasons why we don't offer free shipping! We trust that our customers are able to appreciate it, we know our employees do!
Here are the 2 reasons that we don't offer free shipping.
Customers who pick up their orders get the same product pricing as those being shipped. Their cost for product does not subsidize the cost of shipping discounts for other customers.
We're serious about what it takes to pack and ship glassware properly. This means investing in quality materials and quality employees.
Quality Materials
While we procure upcycled cartons for smaller orders, most orders require boxes specifically designed for heavy, fragile contents. This means meeting standards approved by UPS: double-walled corrugated cartons with high strength ratings to protect your purchase from our door to yours; and with optimally calculated dimensions that maximize your shipping dollar.
Our Biodegradable, Compostable Packing Peanuts are made in-house at a controlled density – heavy enough to protect, but light enough to not add unnecessary weight (cost) to the package. Making them in-house also means they're in better shape to protect and less dusty than ones that have changed hands several times.
Quality Employees
Our warehouse crew takes great pride in shipping high volumes of fragile glassware with an incredibly low rate of damage. They understand that every well-packed carton and properly stacked and wrapped pallet is an opportunity to make a customer's day and uphold Fillmore's reputation.
We value and reward team members by providing a family wage and family health coverage.
Want to strengthen your shipping dollar?
Whenever possible, use the "optimal quantity for shipping". This is the number of cases that will best fit into our carton while maximizing the dimensional weight of the package. This can get tricky if your cart has a variety of items. Use the Shipping Estimator on the right of your cart to see how adjusting quantities impacts shipping. If you see a sudden jump in the shipping, you likely just added enough to require an additional shipping carton. You can see an example of this below.
Consider larger orders. If you are ordering regularly and receiving your orders in cartons, look at your order history to see if you could afford (the money and the space) to place larger orders less frequently. Instead of getting 4 or 5 huge cartons delivered to your door every 2 weeks, you could more than double the size of your order for about the same shipping cost. If you can have your order shipped to a business with a dock, you will save even more. In general, our customers see substantial savings when they are able to consolidate their orders.
Here is an example: Both of these orders are for the same jars.
This order is for 40 cases and would be shipping ground, packed in several cartons.

This order is for 80 cases. You'll see that the quote includes the necessary pallet cost in addition to the lift gate cost. In spite of those needed line items, the total shipping cost was only $25 more, but the case quantity was doubled!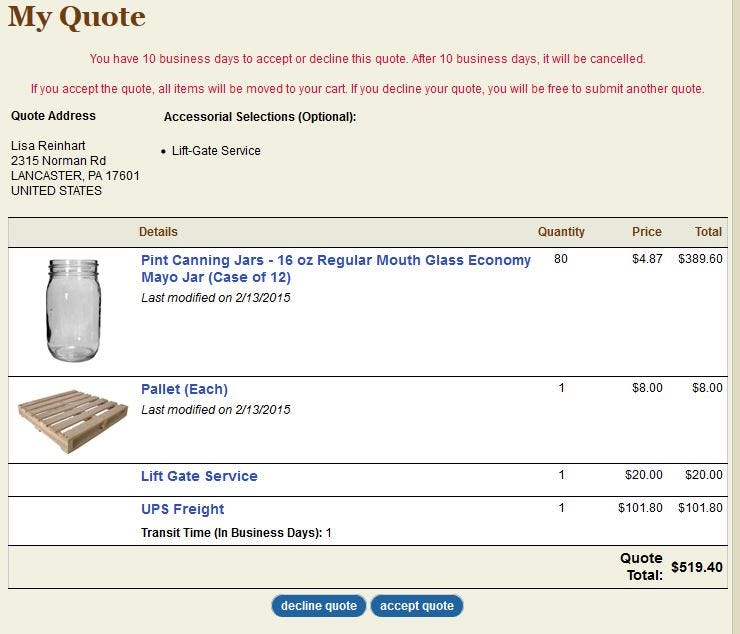 We are currently able to provide some automated quotes into Canada. If you need a quote for a delivery point outside of the US or Canada, the most effective way to receive that quote is to log in, add the correct shipping address to your profile and put the items you want in your cart. Then email info@fillmorecontainer.com to let us know that you have created a cart with the needed delivery details. We are usually able to return a quote to you within the business day.
Hopefully you'll find our delivered cost to still be favorable to that of our competitors. If not, know that we'll keep trying to mitigate the costs of shipping and pass the savings along.