Have you ever wondered if it is cheaper to make your own vanilla extract?
We were quite curious about the real savings, and we've wanted to try making our own extract for a long time. We also thought that homemade vanilla extract would make great holiday gifts. Since we are in gift giving season, we thought it was the perfect time to test a recipe and determine the savings. Here's what we discovered.
Vodka isn't a stock item in our home, so it was easy to start from scratch and figure the actual cost per jar. We wanted to use them as part of our Christmas giving this year so we made a lot! If decent vodka is a regular in your kitchen, you could whip up a small single kitchen batch whenever you had good vanilla beans on hand.
In my recipe research, I landed on 6 – 7 Vanilla Beans per cup (8oz) of vodka. Yep, it's that simple!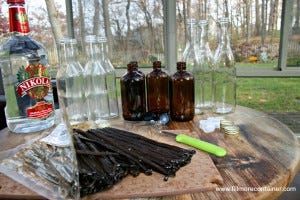 What you need:

Bottles & lids
Beans
Vodka
Sharp paring knife
Cutting board
Funnel
Choose your vessels:
I wanted a variety and wanted to consider clear vs. amber and volume (some of our friends go through vanilla more quickly!).
I liked the UV blocking characteristics of our Amber Boston Round Jars (8oz) and their geeky polycone phenolic lids. They look and feel official. If you don't need to see the lovely hue of your extract, these are the best choice.
I also liked the ability to see those gorgeous Madagascar vanilla beans, so I chose 2 other clear jars – the 8oz Woozy Bottles and the 12oz Vinaigrette Bottles.
Both of these had an opening that would fit with the Dripper Plug Orifice Reducer and work with these metal or plastic lids. If you aren't using a Dripper Plug Orifice Reducer you could use a plastisol lined lid. Please note, the plastisol lined lids will NOT work with the Dripper Plug Orifice Reducer.
Sourcing your Vanilla Beans:
Bulk is usually better, but it's worth knowing that the source is also high quality. We took a tip from Marisa McClellan, of Food in Jars, and purchased the beans through Beanilla and were happy. Pricing was reasonable and shipping was fast (free if you spent enough), and the quality of the beans was impressive! They carry a wide range of beans, so you can have fun choosing which will work best for your plans.
*UPDATE – Since the publish date of this post, the cost of Beans has increased, significantly. When we did this project, I'd ordered a pound of the grade A beans – which equated to 120 or so very large beans – for around $75. As with any product sourced from limited growing regions, availability can have a somewhat dramatic impact on the cost in the global markets. Grade B beans, which come at a lower price point, will work just fine for extracts. If you click on the "learn more" portion of each bean variety, you can quickly see the price breaks with the increase in quantity. Splitting a larger order with some friends will save you significant $$.
Vodka:
A mid-grade, high proof vodka is sufficient. It is important to note that most vodka is gluten free. However, if gluten is a concern, you may want to reference this gluten-free vodka list. If you don't want to use vodka, rum is a good substitute.
DIY Vanilla Extract Recipe:
Start with clean bottles and lids.
Carefully slice the vanilla beans lengthwise. I like to keep the top part intact – they're a little easier to handle that way and I think they look a little fancier.
If you're using shorter jars like the Amber Boston Round Jars (8oz), the bean will need to be cut in half.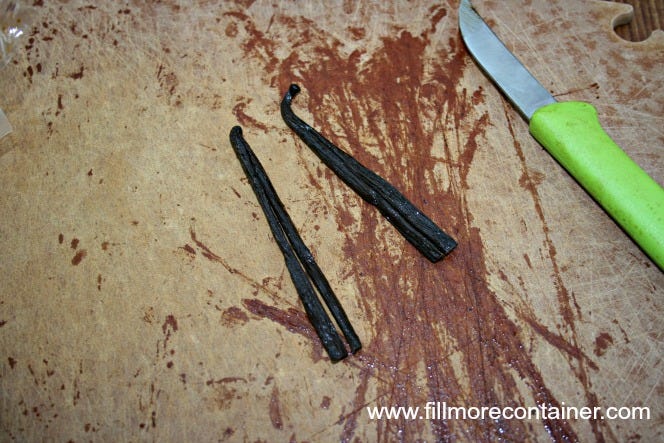 Place the proper amount of beans into your jars, 6 – 7 Vanilla Beans per cup (8oz) of vodka.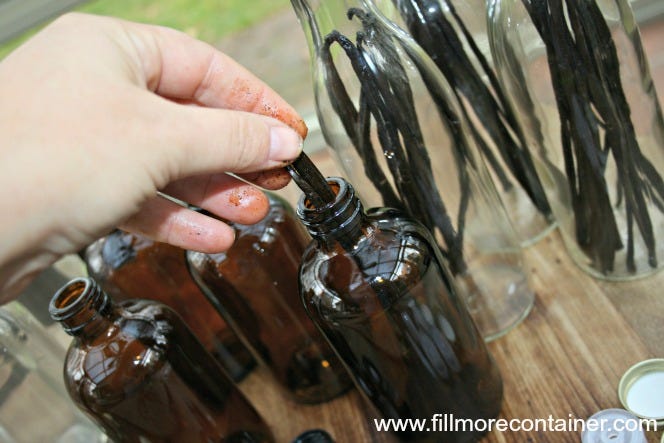 Using the funnel, pour the vodka into the jars, being sure that all vanilla beans are covered.
If you are using the Dripper Plug Orifice Reducer, carefully insert it and then cap it tightly.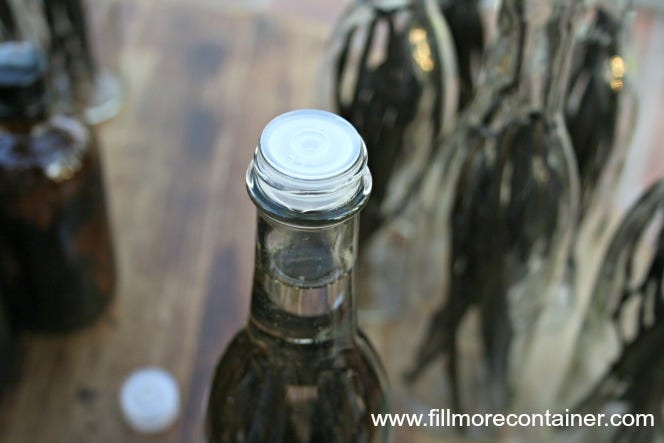 Give each jar a good shake and store them in a dark place. It helps the process if you shake them every so often.
Savings:
What did it cost per complete bottle of Vanilla Extract?
*Please see the update earlier in the post regarding the changes in costs…while you'll still see some savings, the cost of the this project will be higher than stated below because of the significant jump in the vanilla bean market. As a reference, at the time of the prices stated below, most grocery stores were selling a pack of 2 vanilla beans in a range of $8 – $12 depending on the source/quality.
Including the bottles & lids, vanilla beans and vodka, the costs are as follows:
I know I'd pay much more than this for a bottle of vanilla extract at the store. This was so easy to pull together, so much better than store bought vanilla and will look so much prettier once the kiddos lovingly create and attach their hand crafted tags and notes.
We recently added a lovely swing top bottle line to our offerings! They're called EZ Cap Bottles , available in Amber, Cobalt and Flint; in both 16oz and 32oz! We chose to use the clear (also called Flint) so that the warmth of the vanilla could shine through.
Save