We think drinks just taste better in jars, especially smoothies! We are sharing a couple smoothie recipes that feature some of our favorite autumn & winter flavors!
But, before we get to that…we wanted to tell you about our friend, Kelly from Eclectically Vintage. She's created a yummy cocktail perfect for Ball's Green Heritage jars, topped with our daisy lids here! We are giving away a $50 credit for Fillmore Container to one of her lucky readers. Check out her post to find out how you can win! Psst… we are also giving away some of these pretty green jars below, details at the end of our post!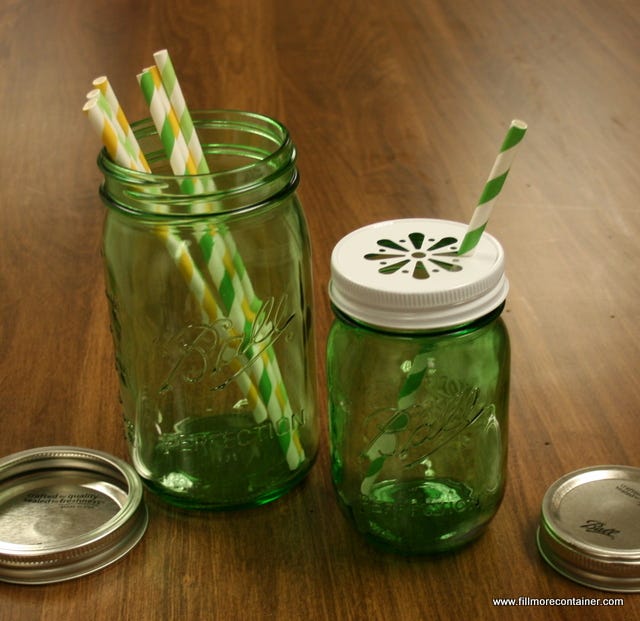 Okay, so now that you know you have two chances to win fun stuff from us, let's dive into these fantastic fall smoothie recipes!
The Great Gingerbread Smoothie
What we loved about this one is that it starts out with a terrific blend of spices…so if you know that you're not a fan of one of 2 of them, you can just try cutting back on the amount or eliminating it. While we enjoyed the recipe as written, the kids preferred it when we cut back on the ginger and cardamom.
Ingredients:
¼ cup sliced banana, frozen
7 oz. (about 1 c) 2% plain Greek yogurt
2 Tbsp. peanut butter
1 Tbsp. molasses
1 tsp grated fresh ginger
¼ tsp cinnamon
⅛ tsp nutmeg
⅛ tsp cardamom
1 cup ice cubes
Combine all ingredients in a high-power blender and puree until smooth. Serve and enjoy!
Mulled Peach Smoothie
The combination of "fresh" from the peach with the mulled tones from the spices is addicting! As we put this post together, I'm still enjoying it. The little bits of crushed cinnamon that linger release a flavor that's quite different than that of ground cinnamon. If you don't think you will like that texture, simply use the ground cloves and ground cinnamon.
Ingredients:
½ cup milk
½ cup ice
1 ripe peach, sliced (or the equivalent of frozen peach – substitute ½ of the ice for water)
⅛ tsp cinnamon (or about 1 inch of a crushed/broken cinnamon stick)
⅛ tsp ground cloves (or about 4 – 7 crushed/broken cloves)
Combine all ingredients in a high-power blender and puree until smooth.
Both of these recipes will yield about 1 pint…or 2 8oz jam jars…perfect for little hands and smaller appetites.
The original recipes, including nutritional data and more delicious seasonal smoothies can be found in Joy Manning's article in Prevention.
You can serve smoothies in any Mason jar, or pour it into one of our Mason jar mugs for something new. We have an entire selection of Mason jar mugs ranging from 4 oz. to 38 oz.
Top it with any of our fun lids. We have a rainbow of color options! Choose from a few different styles – daisy, star, or straw hole.
Don't forget to add a straw for sipping! We have lots of fun, seasonal colors!