We love the reCAP pour caps! There are so many ways you can use them; salad dressing, pancake mix, spice mixes, drink topper, vegetable stock dispenser, travel mug, and fermenting. With reCAP, you can easily shake, pour and store right from a mason jar. The caps are made with BPA-free recyclable plastic, and are made in the USA.
ReCap's come in regular mouth and wide mouth sizes. The caps are currently available in red, blue, silver and black, AND the reCAP folks just announced they are adding BLUE! In celebration of the birth of the new blue reCAP, you have a chance to win a wide mouth reCAP BLUE pour cap (not yet available for sale) and an original regular mouth reCAP silver pour cap.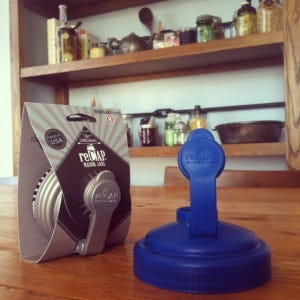 Enter below.
The smart folks at reCAP are also working on some other fun projects – the reCAP Flip Cap! You can learn more about the reCAP Flip Cap on Kickstarter.