Our CSA share has been plentiful with green beans. We've been enjoying them a variety of ways; sautéed with coconut oil; in one of our favorite chicken casseroles; and even crunching on them raw. However, on the eve of a weekend away I realized there was a lonely bag of green beans and a couple lemon cucumbers in the fridge beckoning to be eaten.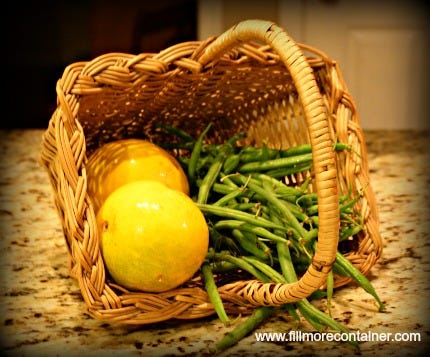 I remembered a pickling recipe we made with some broccoli this past winter. It was so easy and tasty I thought I'd give it a try with green beans and lemon cucumber. The results were great, and the green beans were gone before we even left for our weekend trip.
I used a quart jar for the green beans and one of Ball's blue Heritage Collection pint jars for the lemon cucumbers. Since these quick pickles are going in the fridge, and not the water bath canner, you can use any jar you please. I choose to keep my beans and cucumbers separate, as I thought the yellow of the lemon cucumbers looked pretty in the blue jar, and the cucumbers skin is a bit tougher and I need to be strategic with sizing my slices.
Quick Pickled Green Beans and Lemon Cucumber
2 cups distilled white vinegar
2 cups water
2 tablespoons pickling salt
4 cups total of green beans and/or lemon cucumber
3-4 peeled garlic cloves
1 teaspoon mustard seeds
1 teaspoon black peppercorns
1/2 teaspoon red chili flakes
Combine the vinegar, water, and salt together in a saucepan and bring to a boil.
Wash and snip the beans to your liking. Wash and slice the cucumbers to your liking. The skin is rather tough, so consider that when choosing how to slice.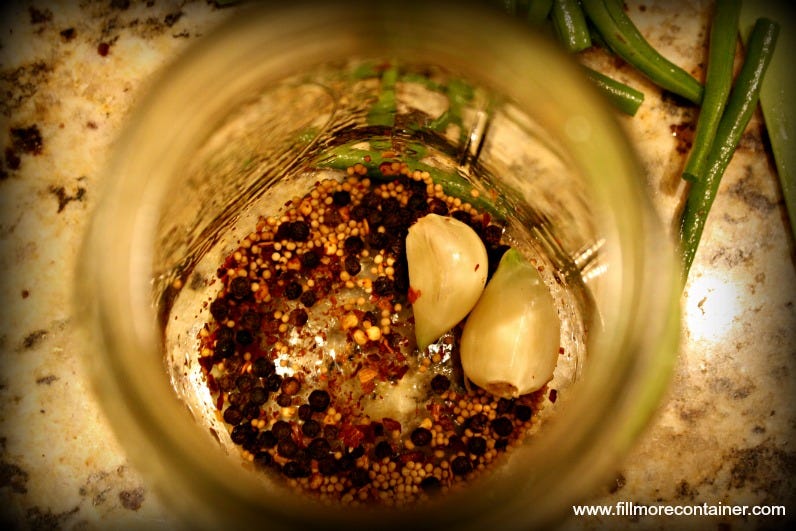 Put the garlic cloves, mustard seeds, peppercorns, and red chili flakes in the bottom of the jar(s) and pack the green beans/lemon cucumbers on top of the spices.
Cover the beans/cucumbers with the hot vinegar brine. Cap the jar and let it cool to room temperature. Place the jar in the refrigerator and let it chill for at least 2-3 hours before serving.
Pickles will keep for 2-3 weeks.
Save
Save