This week's CSA share included some new plant foods for our family. I'm drawn to the heirloom botanicals and intrigued by the sometimes odd looking "fruits". My friend Melissa (who runs the True Vine CSA) was amused by my excitement over the interesting items – lemon cucumbers and some very large, long white radishes. I must admit, I planted some heirloom radishes but the odd spring weather did a number on them and they bolted, so I consider this some divine intervention. The ride home was spent partly on how I wished to pickle these lovelies and partly on how in the world I'd have the time.
Quick Pickling to the rescue – not only because of the ease of preparation and process, but also due to the crisp deliciousness!
Along with the lemon cucumbers, came some very large cucumbers who I knew wouldn't stand a chance in the water bath, so I added them to the quick pickling docket.
There are so many versions of quick pickling out there…but the minimalist guideline is that you need enough water & vinegar (in about equal parts) to cover what you're pickling and a little sugar (can be adjusted for taste).
Quick Pickled Lemon Cucumbers
After your cucumbers are washed & trimmed, slice them to your liking – but you may first want to consider how large they are and which containers you wish them to fit into. Super thin slices may fall apart more quickly. Consider slicing thicker strips, or slicing them in a slanted fashion to make them larger. If you have very long cucumbers, trim it to fit your jar before you slice it into spears. Remember, this jar won't go into the canner, so it doesn't have to be "canning safe". I wanted something special for my lemon cucumbers, so I used one of my antique "Crown" jars with the glass lid. This is also a good time to get some use out of those "already been canned with" lids.
Place the sliced cucumbers in a colander and sprinkle generously with kosher salt. Let them set for 20 – 30 minutes while they give up some of their moisture.
While they're soaking in the salts, mix & heat your brine and prepare your jars.
BRINE: For a large handful of cucumbers, I used 4 cups water, 5 cups vinegar, ¼ sugar for the brine. (I did have a little left over, but I can hang on to that – I might have some more things from my own garden to pickle in the next day or two.)
SPICES: I like to put these in the jar while the veggies are in their salts, and the brine is warming up. Fresh dill & garlic, dry coriander seeds, black & white peppercorns and a fresh chili pepper went into the jars.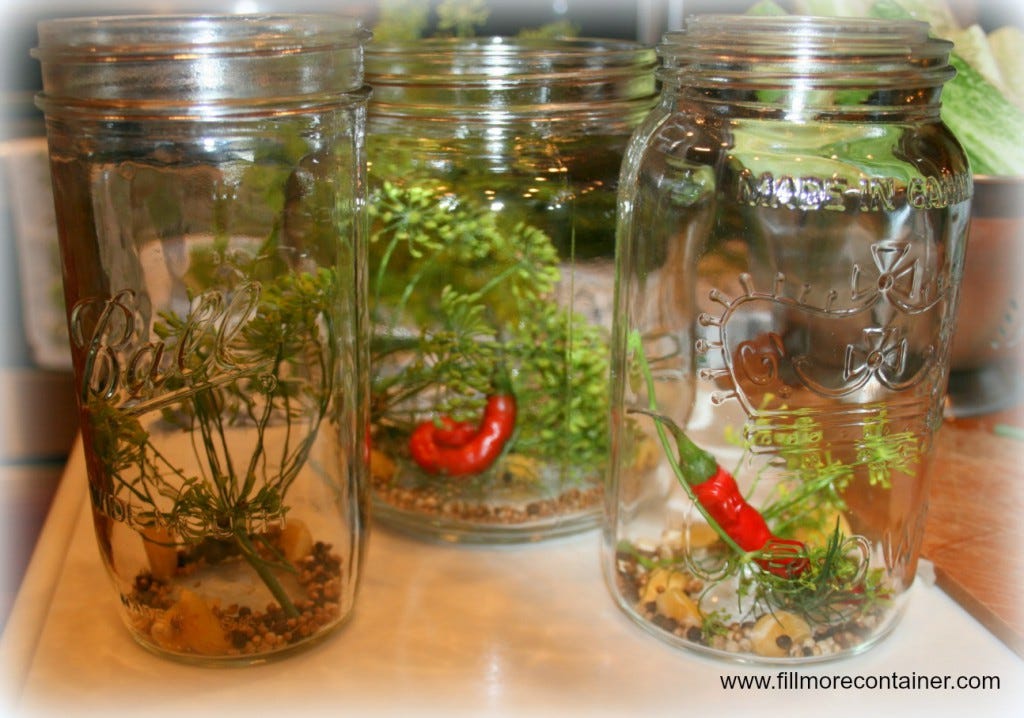 After the jars are spiced, and the cucumbers have set long enough, you may pack the cucumbers into your jars. I like to add a few more springs of dill on top.
When your brine is ready, carefully pour it into the jars over the cucumbers being sure that they are covered.
Let set uncovered until they are cool, then cap them and place them in the refrigerator. I always need to sneak a taste the next day, but really, the flavors need about 3 days to really blend.
Now, what to do with those huge white radishes? Why not Vietnamese Pickles!
Vietnamese Pickles – Carrots & Daikon from White On Rice Couple.
What you need:
½ pound carrots
½ daikon radish (After washing & trimming them, cut them into thin strips. My mandolin julienned them in a flash!)
4 cups water (Warm enough to dissolve the salt & sugar, but not too warm to wilt the veggies.)
3 T sugar
2 T salt
6 T distilled vinegar (rice vinegar if you have it)
Mix the water sugar, salt and vinegar in a large picture or saucepan, ensuring all is dissolved and mixed fully.
Place the julienned daikon and carrots into your jars and pour the vinegar solution over them. Be sure that all pieces are covered.
Lid the jars and refrigerate. Like most quick pickled things, it's best to let them mellow for 3 days for the best flavor distribution.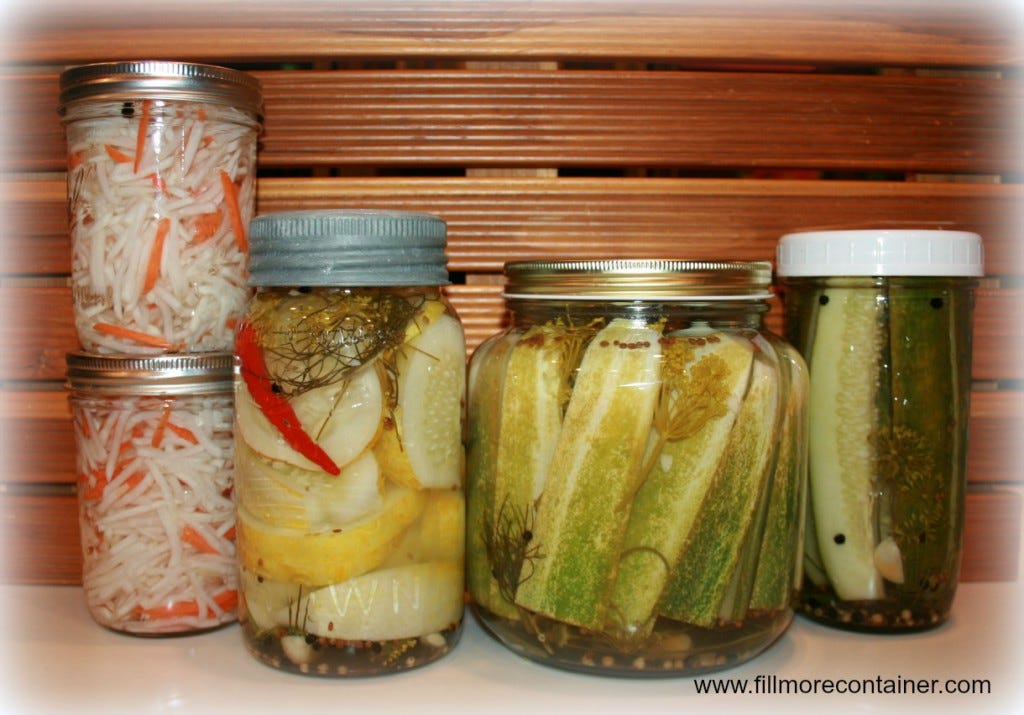 These will last for several week in the refrigerator – if you don't eat them first!
Here's another quick pickling recipe from the archives – Quick Pickled Broccoli. TIP: We've swapped the broccoli with fresh green beans too. It was a hit!