We are pleased to announce our Pay it Forward program! You may remember the movie "Pay it Forward", about a boy who sets out to help others by "paying it forward" with good deeds. Our program follows a similar premise – a portion of the proceeds of some of our products will benefit several charities including the Wounded Warrior Project, 4-H, Help The Fight, and COBYS Family Services. When you purchase the Pay it Forward products we will send a portion of the proceeds to the associated charity.
Since summer means the Fourth of July, which means fireworks and remembering those who founded and fought for this country we will start with the Wounded Warrior Project, which raises awareness of the needs of injured veterans. Proceeds from the sale of our patriotic red, white and blue Paper Straws and Straw Hole lids will benefit this worthy organization, and who is more deserving than our wounded warriors? And, our straws will add a star-spangled touch to you next party!
If pink is more your color, then you'll be glad to hear that proceeds from sales of our pink Paper Straws, pink Daisy lids, pink Canning Lids, pink Coin Slot Lids, pink Mason Jar Straw Hole Lids, and pink Cuppow lids will aid Help The Fight, a non-profit organization that provides supportive funding for those diagnosed with breast cancer. Pink is the color of breast cancer awareness, so our products are both pretty to use and will help a good cause!
Proceeds from sales of our hot pink, powder blue and bubblegum pink heart Paper Straws, blue Coin Slot Lids, and blue Straw Hole Lids will help out COBYS Family Services, a Christian agency which centers on adoption and foster care, as well as family life education.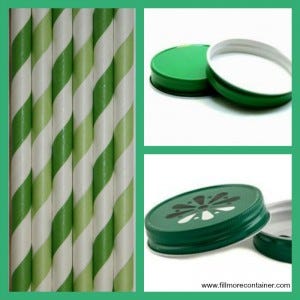 But we're not stopping there. Check out our green and light green Paper Straws, green Daisy Lids and Canning Lids and you'll help out 4-H, America's largest youth development organization, which reaches more than 7 million young people in urban neighborhoods, suburban schoolyards and rural farming communities. 4-H'ers engage in hands-on learning activities in the areas of science, healthy living, and food security.
So sip, enjoy, celebrate and help us Pay it Forward by sharing, tweeting, pinning, and liking this post!
Save
Save
Save
Save
Save
Save
Save