We are pleased to introduce our guest blogger, Sarah Mock from Savoring the Good. Sarah has some excellent tips and creative ways to save money around your home. One way she saves, is by preserving her own food. Today she is teaching us how to use every ounce of goodness from our CSA share, by making our own vegetable stock.
This year you have made the investment in yourself, your family and your local farmer and you are participating in a CSA. Each week you pick up your box of fresh, fabulous fruits and vegetables. You are impressing yourself with the wonderful dishes you are able to prepare with your box of wholesome goodness.
But there will come a day when you will become overwhelmed with the amount of vegetables that will be thrust into your hands. Or perhaps you want to utilize every top, bottom, skin and membrane from the box and are looking for a way to make the most out of your CSA box.
Let me show you how to make vegetable stock with the trimmings from your vegetables as well as the overflow of vegetables that came in your box.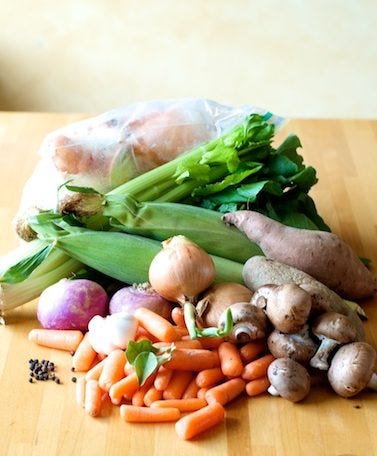 Start with the vegetables.
I save my 'kitchen scraps' from when I am chopping vegetables in a zip top bag and store them in the freezer. I use onion skins, garlic peels, bell pepper membranes, zucchini tops, you name it..it goes in the bag. When I get a gallon bag mostly full I add in other veggies for the stock.
Carrots 2-3 cups
Rutabaga 2 medium
Garlic 3 cloves
Onions 2-3 medium
Potato 1 medium
Sweet Potato 1 medium
1/2 bunch of mustard greens
1/2 bunch of celery
2 ears of corn
6-8 mushrooms
Peppercorns – 1 teaspoon or so
Bay leaves 2-3
As you can see there is no true 'recipe'. The more vegetables you use the greater depth of flavor your stock will have.
Chop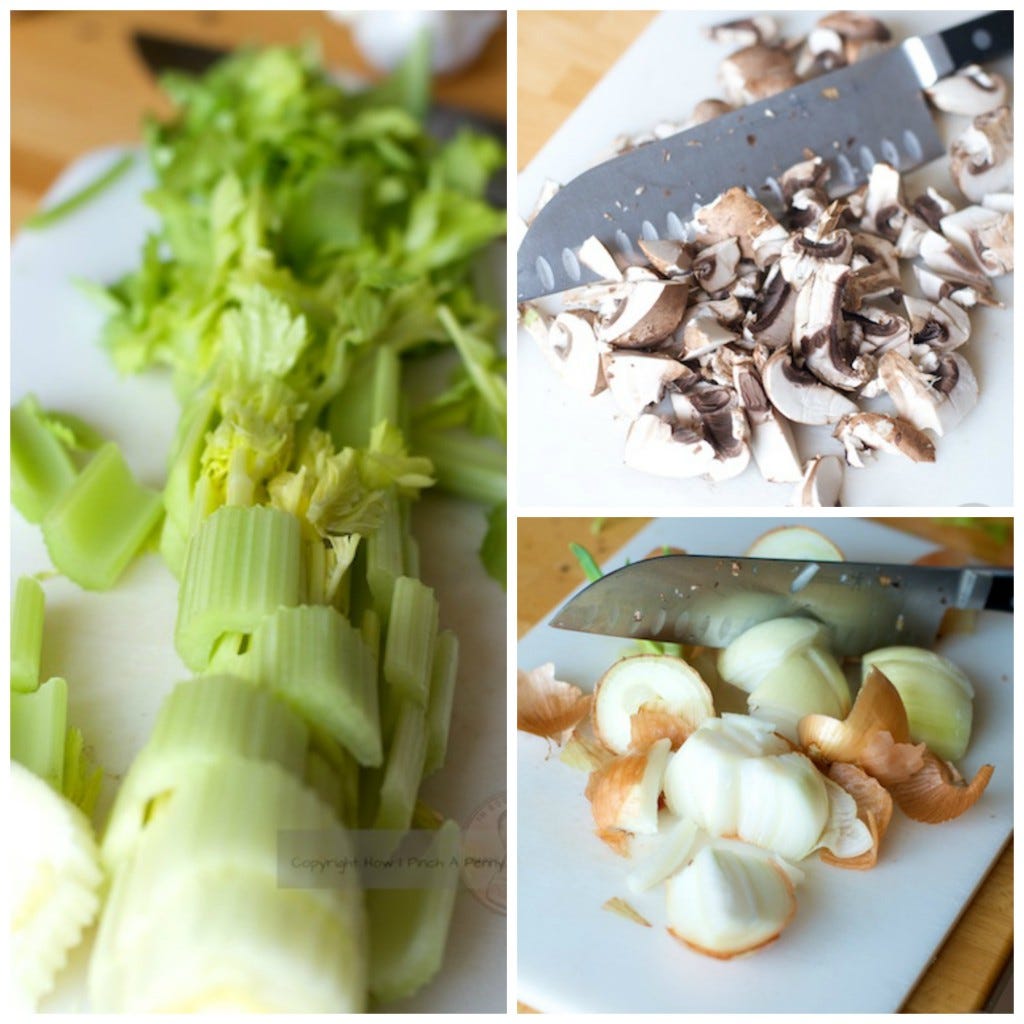 Give everything a wash and a rough chop. Include the leaves on the celery. Chop up the mushrooms. Nothing fancy here. Cut the onions into quarters. Leave the skins on but make sure they are washed. The skins are full of flavor and we are wanting flavor in our stock!
Just give the garlic a smash with the flat edge of your knife. Leave those skins on too. Lots of flavor there.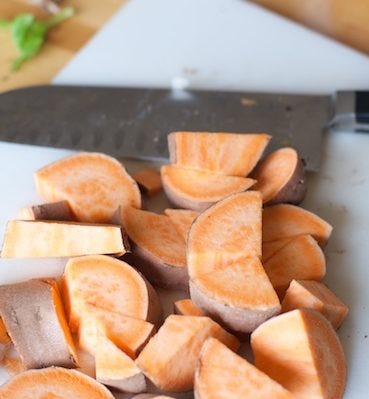 Chop up the sweet potatoes. See? Skins on again.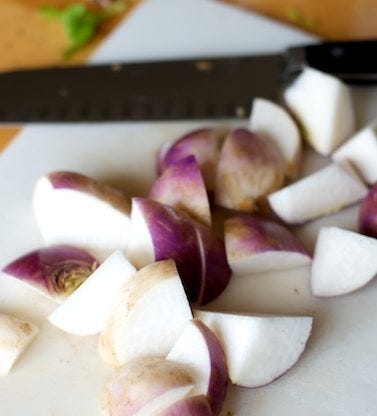 Basically everything gets a knife run through it before it goes into the pot. By cutting the produce you are making sure all the flavors are released and they cook thoroughly.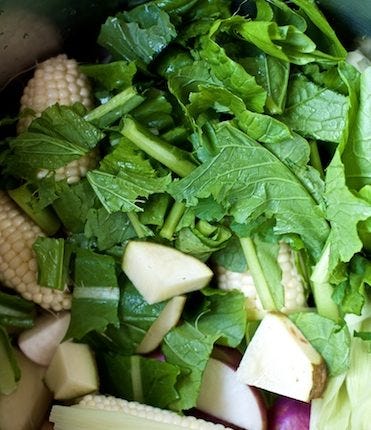 Everything goes into a LARGE stock pot. See? Even the corn made it to the party.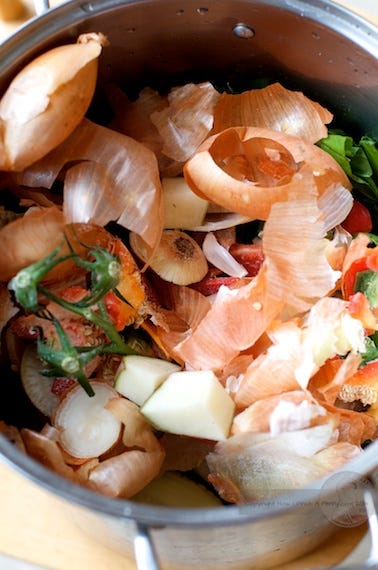 I am using the large pot that I do my water bath canning in.
Fill up the pot with water.
Nothing fancy here. Just water.
The more water you are able to use the more stock you will end up producing in the end.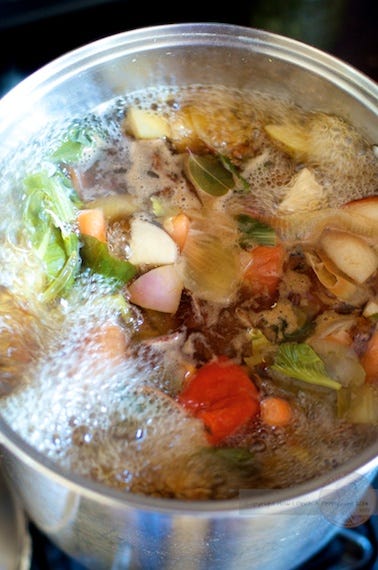 Boil
Bring everything to a boil and allow to simmer for at least an hour. The longer you allow the stock to simmer the more concentrated the flavors will be.
Straining The Stock
Once you have reached your desired depth of flavor it is time to strain the solids away from the stock.
I have used a coffee filter in a mesh strainer but this is a slow process for me. Another option is to pour everything through cheesecloth. The idea is to get as many of the vegetable particles out of the stock. I don't go ultra fine on my straining because I like to have a few 'floaties' in there. It reminds me that this is home made and not a commercial product!
Fill clean, hot canning quart jars with your stock.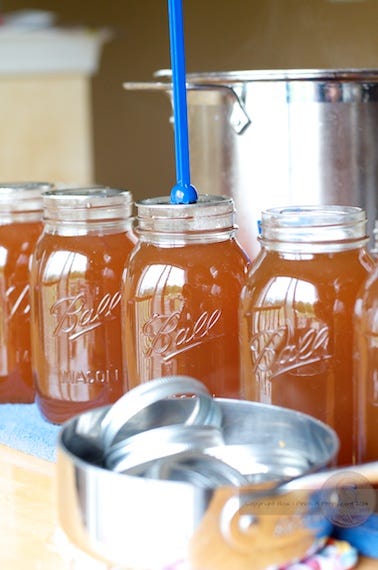 Add a sterilized NEW lid to the cleaned edge of the jar.
PLEASE spend the extra $2 and get the magnetic lid wand. For years I didn't have one and my fingertips were always burned. It is WORTH IT.
Add a ring and finger tighten.
Process quart size jars for 25 minutes at 10 pounds pressure, and pint jars for 20 minutes at 10 pounds pressure. Be sure to follow the manufactures instructions on your canner.
If you don't have a pressure canner you can always freeze your stock in containers. Make sure you read our post about freezing in jars.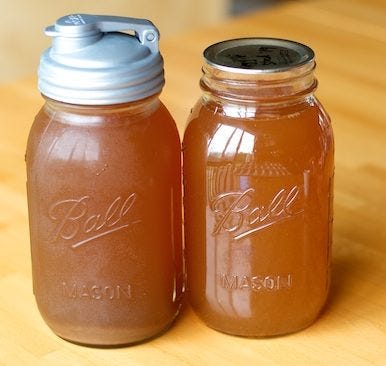 If you have a lid that doesn't seal, or if you aren't going to use a whole jar of stock for one recipe, you can always use a reCap closure. I love it because it is an all in one piece (well the lid pops off for cleaning but still!) and I don't have to fuss with the ring and lid. I don't have the steadiest hand when it comes to pouring and the pour spout is a clean up saver in my kitchen! The caps are available in regular and wide mouth sizes.
Save
Save
Save