Father's Day is coming up…and we set out to find a DIY project for Dad that would be useful, fun, kid friendly, frugal & easy to personalize.  It can be pretty tricky to find that perfect Father's Day gift or DIY project…but I think we've landed on a favorite!
Grilling season has officially arrived and I'd venture to say that there are a lot of Dads already firing up the grill…and anxious to enjoy some tasty steaks, BBQ, ribs & burgers and other fine grilling choices. So, we decided to create some homemade spice rubs for Dad!
Here's how to make homemade spice rubs:
Step 1) Choose a Recipe:
There are a lot of recipes out there for homemade spice & herb mixes, but we managed to choose 4 that seemed to offer some variety and that had good feedback. Many of them have tips on adjusting the heat.  We found one that includes Cocoa, which seems unique – so we're trying it – we've never mixed cocoa & meat –we'll see. (Recipes at the end of the post.)
Step 2) Source your Ingredients:
Depending on your cooking habits, you might not have all of the ingredients, or enough of them at your fingertips. Consider finding a bulk herb supplier. I was so excited for an excuse to visit The Herb Shop  in our local Central Market. I arrived at The Herb Shop stand with my long list & some small empty canning jars and left with a sweet smelling sack of spices & herbs for a meager $20!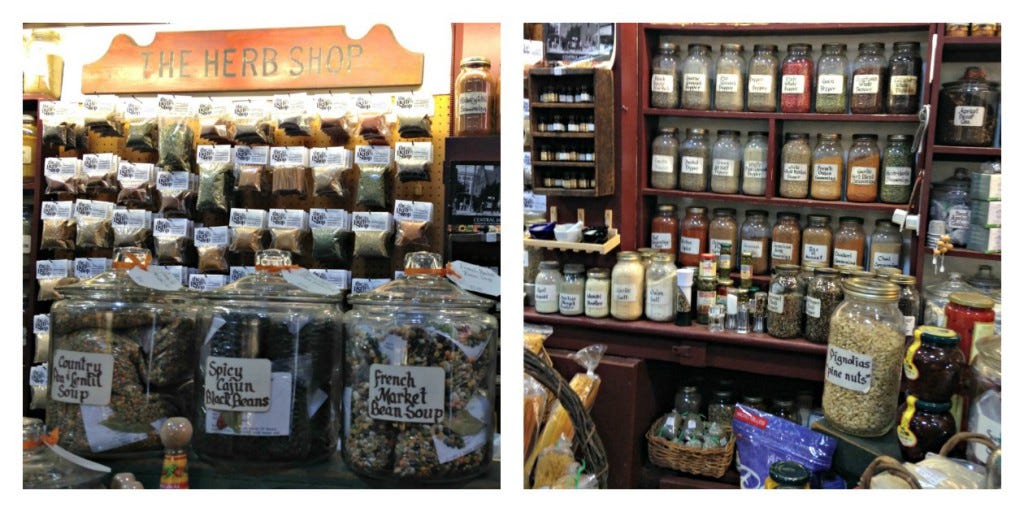 Step 3) Source your Containers & Gather your Tools:
A good glass jar with a lid that will provide an airtight seal is best.  If you are simply pouring the mixes out, the functional style of jar isn't as important. But, you want the size to be close to what your recipe will produce and you'll want to have the proper lid.  We used the Straight-sided 8oz jar – easy to pour, easy to scoop and it takes a regular mouth Mason jar lid. We choose some fun colors  to help color code our mixes.  For the sprinkling kind, like the Magic Dust, we used the Paragon jar with the Pour/Sift Cap. It comes with a foam liner, so if you make it ahead of time, it will keep everything super fresh.
 You'll also need:
Step 4) Mix Things Up:
Because these are dry mixes, the order of ingredients won't matter, but you do want to mix well and to break up any clumps so that everything can be evenly dispersed. Brown sugar and some of the other spices may contain some small clumps.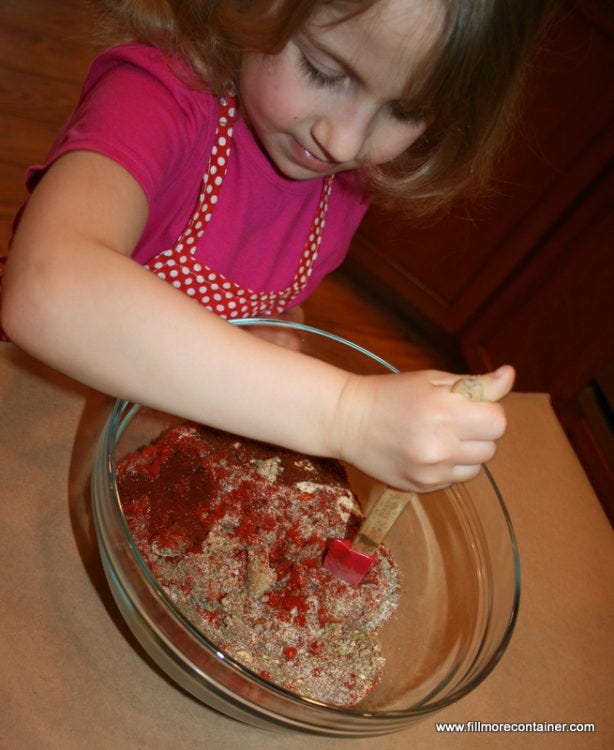 Step 5) Carefully scoop & pour your mix into your jars & put the lids on securely. 
Step 6) Label them – however you choose.
We made homemade labels with special messages for Daddy from each kid.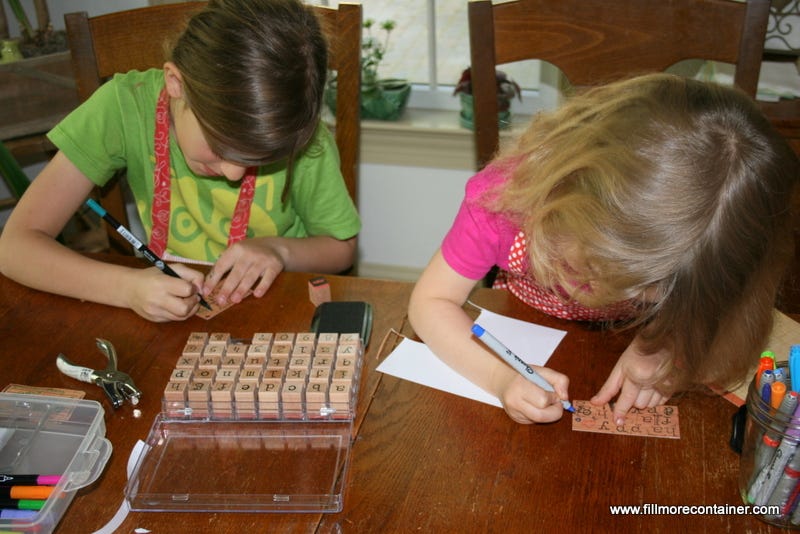 If you want a more uniform professional look. Check out these free printable labels over at CanningCrafts.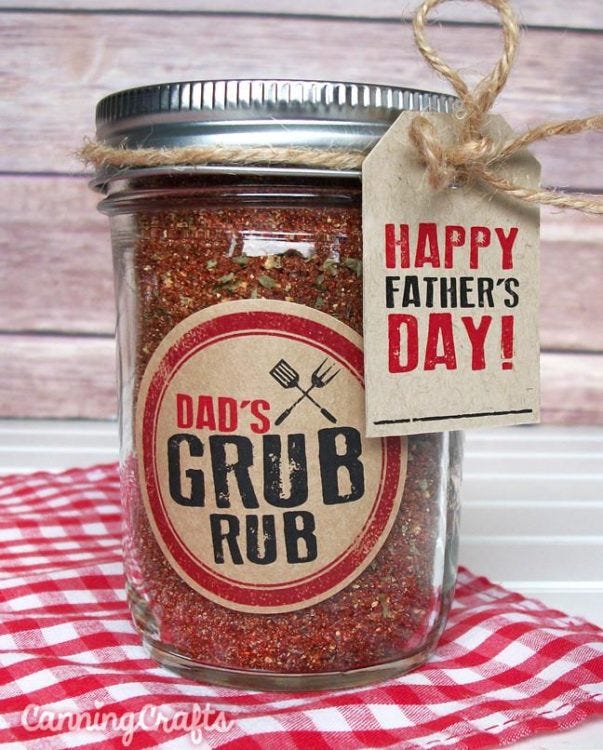 Step 7) Enjoy!
Of course, we couldn't wait till Father's Day to test out our spice creations… We decided to try the Memphis Rub on some spare ribs.
A big thanks to the friendly team at Darrenkamp's Willow Street, who provided helpful tips on the most delicious way to prepare the most scrumptious spare ribs ever! We choose spare ribs because they're from the belly and include the bone, which results in a very moist and delicious cut. We lined a large pan with foil, and generously applied the rub to both sides of the spare ribs and baked at 250 degrees, uncovered for 2 hours. Then I added some local Apple Butter BBQ Sauce, covered it with foil and let it cook for another 2 ½ hours. They were incredible all the way through!
We hope you have fun creating your own special gifts for Dad!  But, If you don't wish to add a DIY project to your schedule, and know a Dad who'd love his very own set of spices or salts, be sure to check out Gneiss Spice or Calicutts Spice Co.
Homemade Rub Recipes
We tried 4 rub recipes. You can find the original recipes here:
Kansas City Rib Rub
Magic Dust
Cocoa Spice
Memphis Rub