Over the last several weeks, I've enjoyed reading through Marisa McClellan's newest brain child – Preserving by the Pint and was anxious to try some of the recipes. I really wanted to wait for fresh strawberries to do this justice, but I still had several quarts of frozen berries and thought, "Why not? I can make more with fresh and compare!"
As I was mentally planning my morning, I realized that the thyme in my herb garden would not have any aromatic leaves yet! Off to Ken's Gardens for Thyme. I came home with 3 varieties – Silver Thyme (I like the variegation), English Thyme (traditional) and Golden Lemon Thyme (also variegated, but with an added lemony hint). I opted to use the English and the Golden Lemon for this recipe…oh, they smell so good!
On a side note, the jam making was to be a morning activity. I wanted to pot my Thyme and went to get a container. I got distracted for a few minutes checking my email and heard jingling in my garage. Turns out, a lovely German Shepherd had invited himself in for a visit. We don't have a dog. And, so my jamming plans were put on hold.
The short version: Carefully placed bits of 2 left-over cheeseburgers, 2 friendly Officers and about 2 hours later, he was reunited with his owner, I was all cleaned up and back to jamming.
Since I hadn't made a sugar-free AND pectin-free jam before, I wanted to stay true to the recipe… other than the fact that I had more than one batch of berries.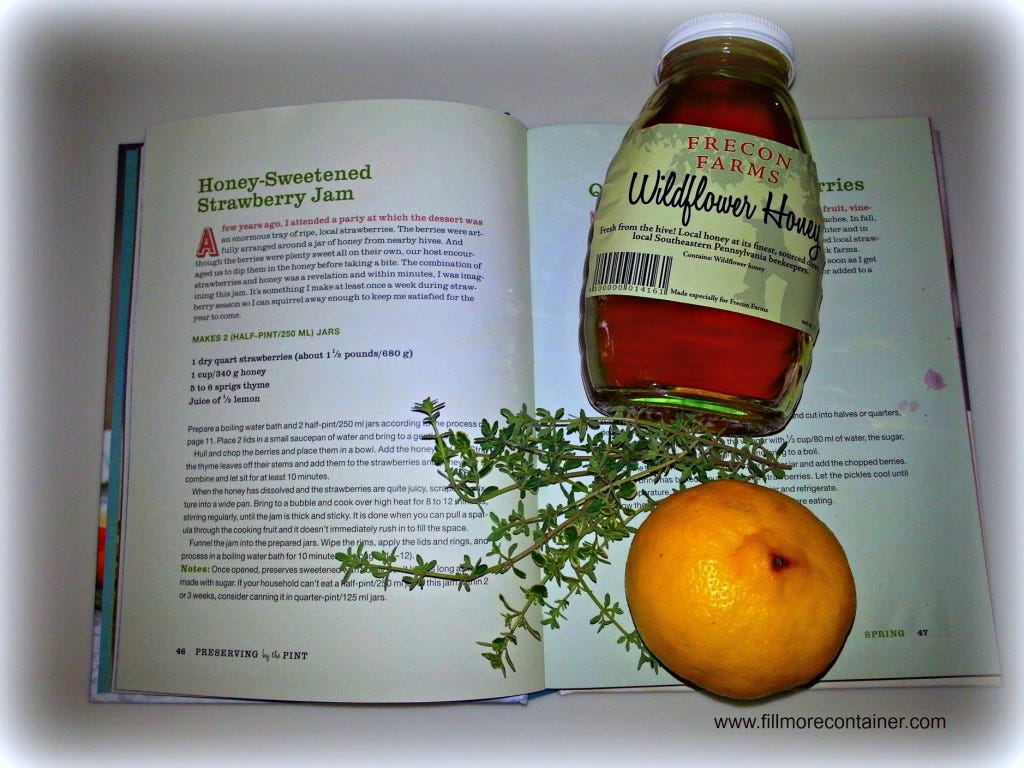 Here's where I'd like to highlight the benefit of Marisa's book including weights as well as volumes. I used my food scales to measure my berries and then did the math for the honey. It turned out that I had 1.5 times more berries. Since the recipe doesn't call for pectin at all, it simply relies on the cooking down of the fruits & honey, I was not worried. Now, since I've seen Marisa whip through her pint–sized batches several times, I knew that I'd have to cook mine down a little longer with my larger volume.
As expected, the result was deliciously savory and sweet!