We've become quite fond of Pomona's Universal Pectin. Our preserving habit can be somewhat unpredictable – from testing products, processes or recipes; To keeping up with the garden, and surprise arrivals of auction produce from my Father. All of these scenarios in addition to our regular schedule of putting up "planned foods" and life as a busy family, we are always juggling our preserving plan. I love that with Pomona's I can make batches that fit my supply of fruit – be it a small amount, that I don't want to go to the worms, or the flats of berries that suddenly appeared by my back door.
After starting with the 1 oz Packet, I did some quick math and figured that I'd be better off taking the plunge with the 1# Bulk Bag. (It's a better deal, plus I really like not having as much packaging waste!) Also, because there isn't an expiration on Pomona's, I won't worry if we don't do as much jamming as I anticipate this year. As soon as I brought my bulk pectin home, I carefully poured the pectin into 2 Widemouth Pint Jars; and the Calcium Powder into a 4 oz Regular Mouth Jar and capped them. Funny thing – although 1# is 16 oz, the pectin is lighter and takes up more room! I divided the pectin into 2 jars in case I didn't go through it as quickly as I thought I might. I will use the #1 jar first, and the other one will stay sealed until I get to it. (If you're re-using a lid, be sure that it doesn't still carry the aroma from its previous use!)
Early this spring, it hit me that I really should use up the substantial amount of strawberries that I'd thrown in the freezer in a mad rush last year…they were stemmed but were still whole. Marisa McClellan's Strawberry Vanilla Jam has become a fast favorite for our family. So, I pulled out my Food in Jars cookbook and I began by taking a tip from Hitchhiking to Heaven, and allowed my fruit to thaw with some sugar. I'd pulled enough strawberries out for a double batch, and put them all in a large bowl with 2 cups of sugar. I put a post it note by my bowl with the amount of sugar already in the recipe so I wouldn't forget!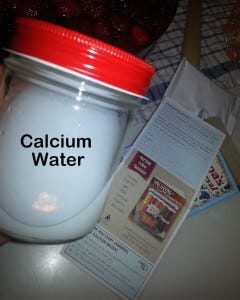 The pamphlet that comes with Pomona's provides a wealth of information – for swapping sweeteners, proportions & guidelines for the calcium water and recipes for cooked jam, jelly, marmalade and jello with low sugar or honey; for jam, jelly & jello with no sweetener; and for freezer jam!
I simply followed the instructions on Pomona's pamphlet – with the addition of 1 vanilla bean and the following sweetener alterations. A double batch of strawberry jam called for 1 ½ – 4 cups of sugar OR 1 – 2 cups Honey. Since I'd already added 2 cups of sugar, I thought I'd cut back a little and add an additional ¾ cup of honey.
I canned this batch in pints because we've got some customers, who with the help of their goats and Jersey cows, have been producing the most excellent yogurts. This has resulted in a jam & yogurt parfait addiction in our household. The kids gave the jam glorious reviews! Our eldest mused that he really liked that it wasn't super sweet and that "it allowed the flavor of the strawberries to take over." Seriously!?! The others, between mouthfuls, managed to proclaim that it was the best ever and couldn't put down their spoons!
Next up: Food in Jars Honey Sweetened Strawberry Jam from Marisa's newest creation Preserving by the Pint – no sugar, only honey to add sweetness!