The growing season is upon us and that means it's time to sign up for a CSA (Community Supported Agriculture). Becoming a member of a CSA is a great way to get access to local, seasonal food directly from a farmer.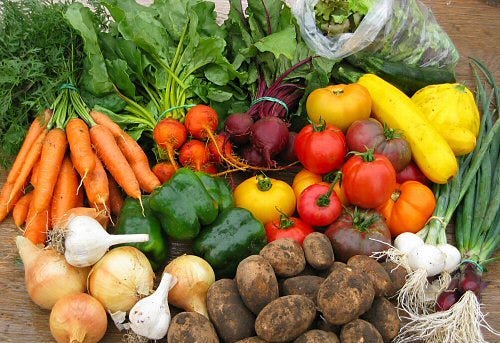 Here's how it works:
A farmer (or group of farmers) offers a certain number of "shares" to the public. Typically the share consists of a box of vegetables, but other farm products may be included, such as dairy items, fruits, or meats. Interested consumers purchase a share and in return receive a box of seasonal produce each week (or bi-weekly) throughout the farming season.
Here's why it's great:
Enjoy the benefits of eating very fresh locally grown food soon after harvest, which provides your family with nutrient dense foods.
Support your local agriculture, not through a retailer or market but directly to the farmer.
Learn and experience new and different foods, which you can't get at a grocery store.
The power to choose food that's free of pesticides, hormones, antibiotics, and GMOs.
Understand more about the farming process and where your food comes from, which is a great lesson for everyone, including kids.
Opportunity to visit and see the farm in action, and in some cases pick-your-own.
Protect the environment by supporting locally grown food, which doesn't have to travel far – reducing fossil fuel, carbon emission and packing materials.
How to find the perfect CSA:
How to get the most out of your CSA:
Are you an avid CSA fan? Give a shout out to your CSA, and tell us why you love it in the comments.