Our warehouse is a sea of green, filled with Ball's newest Heritage Collection Green Jars. These new regular mouth pint jars and wide mouth quart jars are packaged as a set of 6, with bands and lids. These jars are only offered for a limited time, get them while you can.
With St. Patrick's Day right around the corner, we feel like sharing a little of our green with you. We are giving away a case of each of these new green jars (pint & quart) along with this super cute tea towel from the Hip Girl's Guide to Homemaking.
We are really excited to pickle something yummy in these new green jars. Luckily, we have a few friends that are sharing their favorite pickling recipes with us. Food in Jars is sharing a quick pickled broccoli recipe. Phickle has a very yummy Probiotic Asparagus Pickle; and The Hip Girl's Guide to Homemaking has a White Wine Pickled Brussels Sprout recipe.
Giveaway details after the recipes.

Food in Jars – Quick Pickled Broccoli:
This recipe is so easy and looks just delightful in the new green quart jars!
2 cups distilled white vinegar
2 cups water
2 tablespoons pickling salt
4 cups broccoli florets
3-4 peeled garlic cloves
1 teaspoon mustard seeds
1 teaspoon black peppercorns
1/2 teaspoon red chili flakes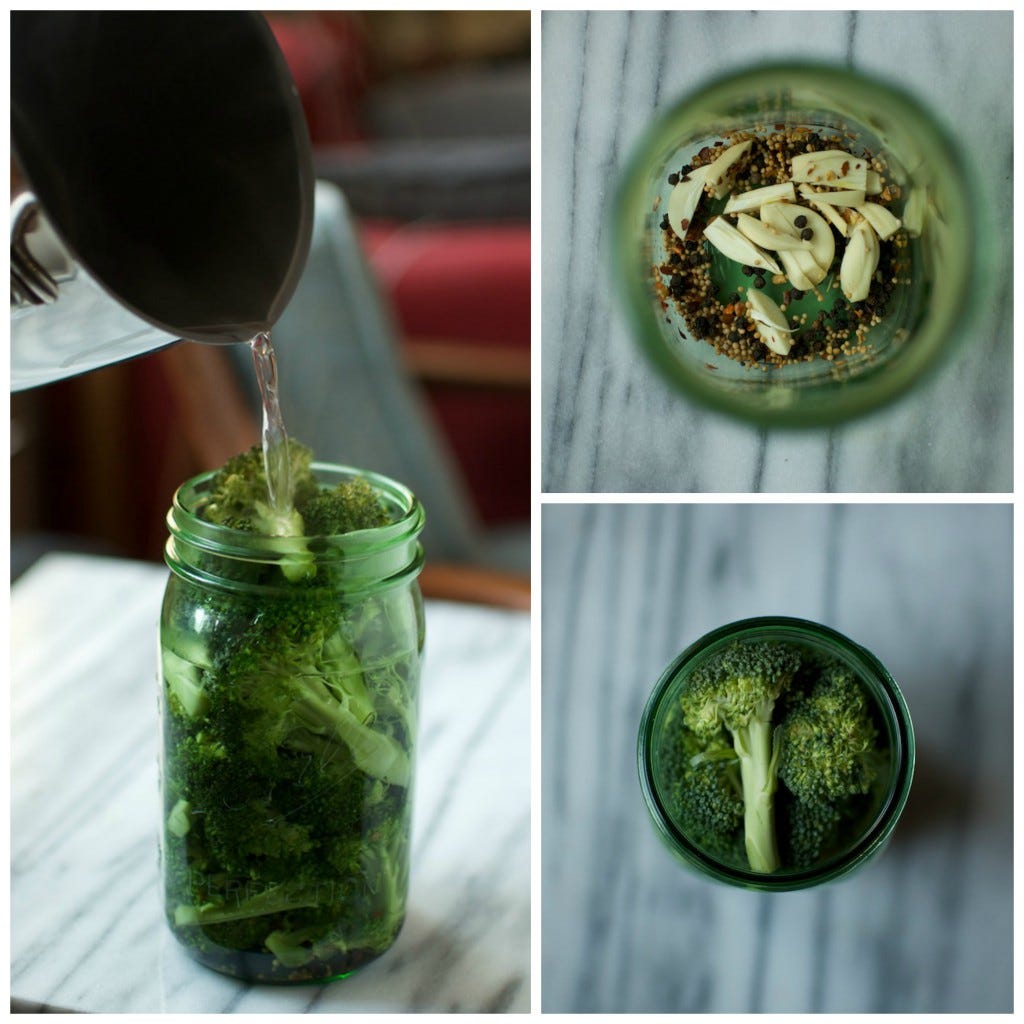 1. Combine the vinegar, water, and salt together in a saucepan and bring to a boil.
2. Put the garlic cloves, mustard seeds, peppercorns, and red chili flakes in the bottom of a quart jar and pack the broccoli florets in on top.
3. Cover the broccoli with the hot vinegar brine.
4. Cap the jar and let it cool to room temperature. Place the jar in the refrigerator and let it chill for at least 2-3 hours before serving.
Pickles will keep for 2-3 weeks. For more recipes from Food in Jars, check out her book.
Phickle – Probiotic Asparagus Pickle:
These fermented asparagus pickles are a favorite way to fete the arrival of spring and the layered green look they have in the new green jars is so pretty!
1 bunch of washed asparagus, approximately 15 spears, woody ends trimmed. Medium-thickness asparagus spears that have roughly the same circumference as one another work best in this recipe.
1 tablespoon yellow mustard seeds
1 bay leaf
1 whole glove of garlic, peeled
2 cups brine (1 tablespoon of coarse or kosher salt dissolved into 2 cups of room temperature water)
makes 1 quart; fermentation time approximately 2 weeks at room temperature
1. (Optional) Chop your asparagus spears crosswise into 2-3 inch pieces, a slanted cut is always pretty.
2. Place your seasonings in the bottom of the quart jar, place asparagus spears over the seasonings and pour brine into jar until there is a layer of brine over the spears. You don't want your brine level above the shoulders of the jar.
3. Ensure that veggies are completely submerged underneath the brine I use a jam jar full of water as my weight and then cover the whole thing with a cloth napkin and secure it with a rubber band. Some people use special jars with airlocks, plastic bags filled with brine or even boiled stones to do the same thing.
4. Let them sit at room temp (somewhere between 64F and 75F is best) for 1-2 weeks, or until your desired acidity has been reached, then remove the weight, close the jar with its normal lid and stick them in the fridge. Enjoy them 'til they're gone. It's never long in our house!
For more recipes from Phickle, check out her blog.
Pickled brussels sprouts are a great addition to spring snack plates and are always a hit at food swaps, potluck gatherings, or wrap it in a 'Yeah, I pickled that' tea towel and gift it to a friend.
1. Bring 4 pint jars to a boil for 10 minutes in your canner pot (or tall stockpot with a rack). This might take 30 min or more, depending on the size of your pot.
2. Wash and set aside 2lbs of Brussels sprouts, cut larger ones in half.
3. Pull out your jars and add the following amounts of spices to each jar:

1/4 tsp whole cumin seeds
1/2 tsp whole coriander
1/2 teaspoon whole fennel seeds
1 small (or 1/2 large) dried hot or smoky pepper (I used Goya brand 'Chile Pulla' dried peppers)
4. Combine the following in a medium non-reactive saucepan and bring to a boil to dissolve the salt granules:
2-1/2 cups filtered water
2-1/2 cups white wine vinegar
2 Tbs pickling salt (or fine-grain white sea salt, NOT iodized table salt)
Keep an eye on the brine and remove it from heat once it boils.
5. Place 4 new lids (that fit your jars) in a small saucepan with enough water to cover them completely. Simmer the lids to warm up the gummy seal stuff. Remove from heat and set aside.
6. Pack raw brussels sprouts into jars pressing them in firmly, leaving about an inch of space from the rim of the jar.
7. Pour hot brine over the contents of the jar. It will be hard to bubble them since you packed the sprouts in so tightly, but you can remove excess air bubbles trapped down inside the jar by using a small rubber spatula or plastic Chinese soup spoon and pressing firmly down on the veggies at the top of the jar. You'll see little air bubbles come up. Top any of the jars off with extra brine once they're bubbled so you have 1/2-inch headspace (space between the rim of jar and brine).
8. Wipe rims to remove excess vinegar/salt brine and seal with two piece lids. Process in your canner pot for 10 minutes.
Try to wait at least 2 weeks to break into these pickles to allow for the spices to infuse and mature. If you want to omit the waterbath, you can fridge pickle this same quantity in 2 quart jars (2 pints in a quart). For a pickle that's ready faster (and is possibly a bit cloudier), crush your spices before adding them to the jars.
Thanks to Food in Jars, Phickle & The Hip Girl's Guide to Homemaking for sharing some yummy pickling inspiration! Check out their blogs for other great recipes!
If you are a Ball jar fanatic, and you love more than just the green ones, we've got them all!

The Giveaway
If you are feeling lucky, enter yourself to win a case of the green regular mouth pint jars and wide mouth quart jars with bands and lids, and a 'Yeah, I pickled that' tea towel using the Rafflecopter entry form below.
Here's a picture of one of our lucky jars to wish you 'Good Luck'!