We are always trying to expand our product line and add new jars, lids and other fun things that we know you'll love.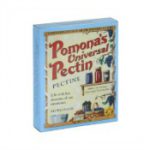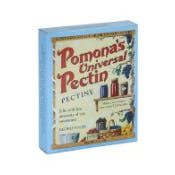 The following addition is something that should be in every preservers pantry, Pomona's Pectin.
Pomona's Pectin is a sugar-free, preservative-free, low-methoxyl citrus pectin that does not require sugar to jell. It enables you to make jams and jellies with little or no sugar, allowing you to make a healthier version of your preserves. For those of us that love to jam, but are trying to reduce the amount of sugar in your diet, Pomona's is the way to go.
Benefits of Using Pomona's
Jams require much less cooking time than traditional recipes, allowing you to create jams that are not only healthier and quicker to make, but filled with fresher flavor!
If it is stored properly, (in a cool & dry airtight container) there's really no expiration.  You can stock up in 2014, and continue using it in 2015, 2016, 2019, and beyond.
When using Pomona's, you're not relying solely on the "cooking down" of the jam or the added sugar to provide set, which means that you can do multiple batches and that you can adjust the sugar content.
If you prefer to use honey rather than sugar, or low-cal artificial sweeteners, you can successfully use sweeteners other than sugar with Pomona's.
Each box of Pomona's comes with detailed instructions and recipes on how to make jam, jelly, marmalade and freezer jam. View or download the instructions here. Pomona's is available by the box, or in bulk, or for retail with a case of 25 boxes.
Many folks say that their preserves taste better with Pomona's, including Allison Carroll Duffy, who wrote the cookbook Preserving with Pomona's Pectin. This book is a great guide to help you on your journey of low-sugar preserves. You'll learn how to use the product and method to create marmalades, preserves, conserves, jams, jellies, and more. From sweet offerings like Maple, Vanilla and Peach Jam to savory favorites like Red Pepper and Jalapeno Chutney.
So, you may have a few questions such as… "Will my jam last long enough if I've reduced the sugar?"
Reduced sugar jam should still last at least a year in the jar, if properly sealed. Once you open it, you can experience a shorter refrigerator life. Here are some suggestions – like with most jams, jellies & preserves – consider how quickly your family or household will consume that opened jar and go from there. If you don't consume it quickly, or if you enjoy having 5 jam jars going at a time, go with some smaller jars like these.  Do your best to avoid contamination – try to use a clean knife or spoon for scooping jam and resist spreading it and then double dipping.
Pomona's has a detailed FAQ (Frequently Asked Questions) section on their website. They've also compiled a wealth of recipes that are worth checking out. We also have quite a few recipes using Pomona's Pectin.
If you want an outside perspective of Pomona's, Linda Ziedrich, author of The Joy of Jamming and Joy of Pickling wrote about her own experience with Pomona's and other specialty pectins on her blog, A Gardener's Table.
Have you tried Pomona's Pectin? Tell us about your experience.