During this wonderful season of giving we all love to wrap up a little something yummy or pretty in jars and gift it to family & friends.
Here's a few tips to get you on your way to gifting your homemade goodies.
Pick a Jar

If you are gifting something that's already been put in a jar then you are one step ahead of the game. If you still need to select the perfect vessel for your item. Think about how your gift will be used. If it is a bath & body item like a body butter or body scrub, we suggest a widemouth jar with a one-piece lid, so your recipient can get in and out of the jar easily.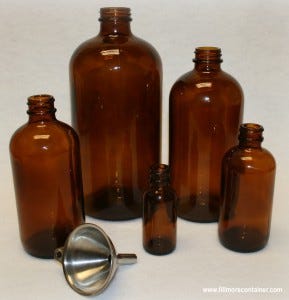 If you are gifting an extract, oil, bitters or liqueur, you'll want to consider a jar that has a narrow mouth for pouring, and one that will protect your precious liquid, and extend its shelf life, such as an Amber jar.
If you are gifting something bigger; maybe a batch of our favorite popcorn, or a few batches of your best holiday cookies, consider one of our pantry jars.
Label it
There are so many great printable label options out there. Here's a few we like.
Although, these perfectly pretty labels will really dress your gifts up…sometimes a homespun label warms the heart, especially when kids are involved in the giving!
When you label your gift, don't forget to give special instructions the recipient may need to know. Should it be stored in the fridge, or the pantry? How long of a shelf life does it have? Provide a recipe for them to use the preserves in action.
Need some more gift inspiration? Check out our – Gifting your MIY Gifts in Jars & Preserved Treasures Pinterest board below.
What are you gifting this holiday?
Don't forget to check out our Holiday Gift Guide for other fun gifting ideas!