Our latest Pinterest obsession… chalkboards on jars! We've read a few different posts about chalkboard labels and chalkboards on glass, we wanted to see how both versions worked. Because we carry a lovely variety of Pantry Style jars – ones that are great for storage and still lovely enough to have sitting on your counter or shelf – we were anxious to do some chalkboards on our own. We tried out some "real chalkboard" projects and found that it really was pretty easy to produce something that we were quite tickled with! (To see more DIY ideas with our pantry style jars check out the latest post on Eclectically Vintage)
Here's what you'll need:
Chalkboard Paint (stirred, not shaken – shaking is more likely to create bubbles, which will cause a bumpy texture as you paint). We used the Rust-o-leum Chalkboard Paint. It is tintable, so you're not limited to the dark board look. We used Moonstone (which is basically a dark grey). Depending on your purpose, you could choose from a pretty wide range of colors.
Paint brushes &/or a foam sponge brush. You'll want something small to edge out the image, then something larger to fill in. Be careful with sponge brushes – it's easy to get bubbles in them.
Tape – painters or masking tape works well.
Something to keep your jars from rolling (We used a roll of tape on either side).
Jars – we used our Heritage Hill, Cracker and Montana jars.
Printed images
Paint Pens (optional – for the non-chalk "permanent" parts of your design)
Here's What to Do:
To start, we browsed the plethora of downloadable templates out there and picked out a few designs we thought would be versatile. Once you've chosen your images, adjust the size so that it will fit the jar and print it (black & white or grey scale). Then just cut the excess paper off so it can easily fit it into the jar & tape it. This is so much easier than making a stencil, and you can use it for multiple jars! The UP side of using a stencil is that it's a little easier to paint in sweeping smooth strokes if you're going for a super smooth look.
After we had the image placed where we wanted it, we simply traced it with paint. Apply 2 – 3 coats depending on how thin your coats are. The smoother you keep your paint, the nicer it will take the chalk…and the chalk will wipe off more completely when you want to change your script. We were in a bit of a hurry to get these done, so you can see the results of that in our painting.
When the chalkboard paint was dry, we added some doodle embellishments with our awesome Sharpie Paint Pens. We used white & silver. We will probably add some holly or evergreen flourishes for Christmas gatherings. Then we can clean the pallette & start fresh for the next season!
Our Finished Product:
How to Care for your Chalkboard Jars:
If you want to keep your chalkboards intact, hand wash those! If you wish to totally remove them and do new ones for a different event, put them in your dishwasher. (We found this out by accident.)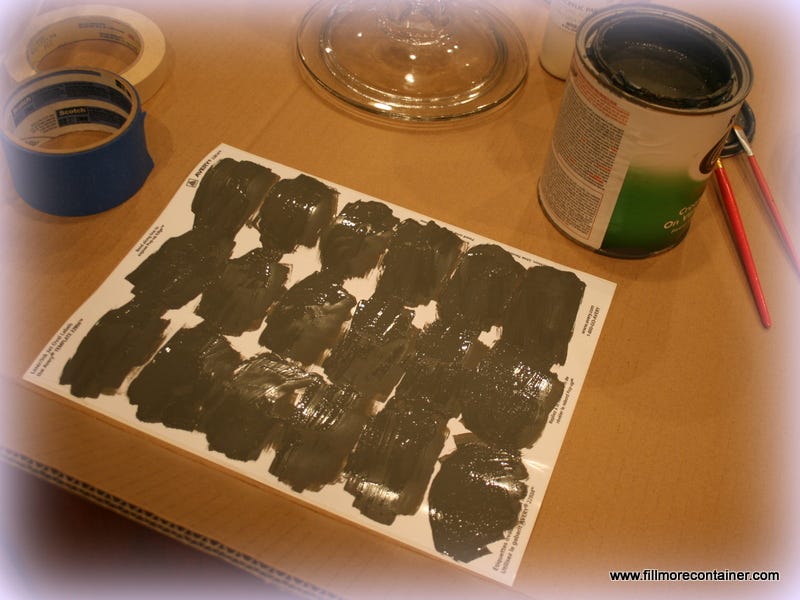 Here's How to Use Paper Labels:
All you need is a sheet of labels, your paint & brush! Just paint over your labels…allow to dry…use them at will! We used the Sharpie Paint Pens because they have a finer point and we didn't have narrow chalk. Because they were simply paper canning labels, we weren't concerned about their re-usability.
We will use the rest of our sheet to label some preserves that we will be gifting…we just loved the darker label instead of the bright white.
Want to read about some more ideas for our pantry jars? Check out this post on organizing your pantry with our big jars.