It's not a secret…we love jars! So, with Valentine's Day around the corner it is no surprise that we are treating our Valentines to some goodies in jars.
For Health Conscious Valentines


We packaged pistachios, organic popcorn and banana chips in our square 16 ounce Mason jar, 16 ounce economy canning jar and the 12 ounce clear canning regular mouth jar. We topped them with our red canning jar lids. For our local fans we picked up our healthy snacks at Lemon Street Market in Lancaster, PA.
For the Littlest Valentines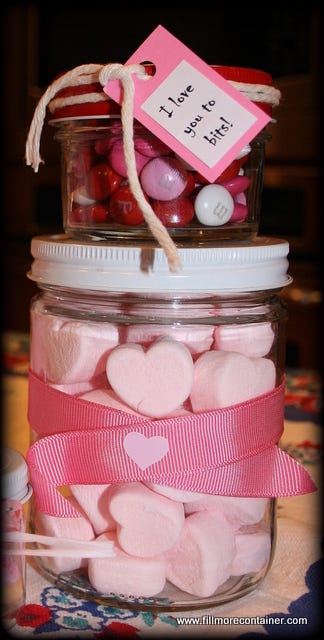 We filled our lovely 4 ounce tapered jars with M&M's and loaded our 16 ounce straight sided jar with marshmallow hearts for our "half pint" Valentines. Both of these sizes are perfect for little hands.
For Valentines with a Sweet Tooth


Peanut M&M's fill this 16 ounce paragon jar and Valentine candy corn fill a 12 ounce economy jar. These treats are sure to satisfy the appetite of any candy lover.
For more Valentine's Day inspiration check out our Valentine's Day in a Jar Pinterest board.
How are you using jars this Valentine's Day?