There are many traditions that get us in the spirit of the holidays. For our family, one of these is making Almond Butter Crunch. This delightful candy (or bark) is a staple in our house during the holidays, and it has been since I can remember. It started with my grandparents, then my parents, and now we relish in the opportunity to carry on this tradition. Each generation has added their own stamp on the candy recipe, making it better with each batch!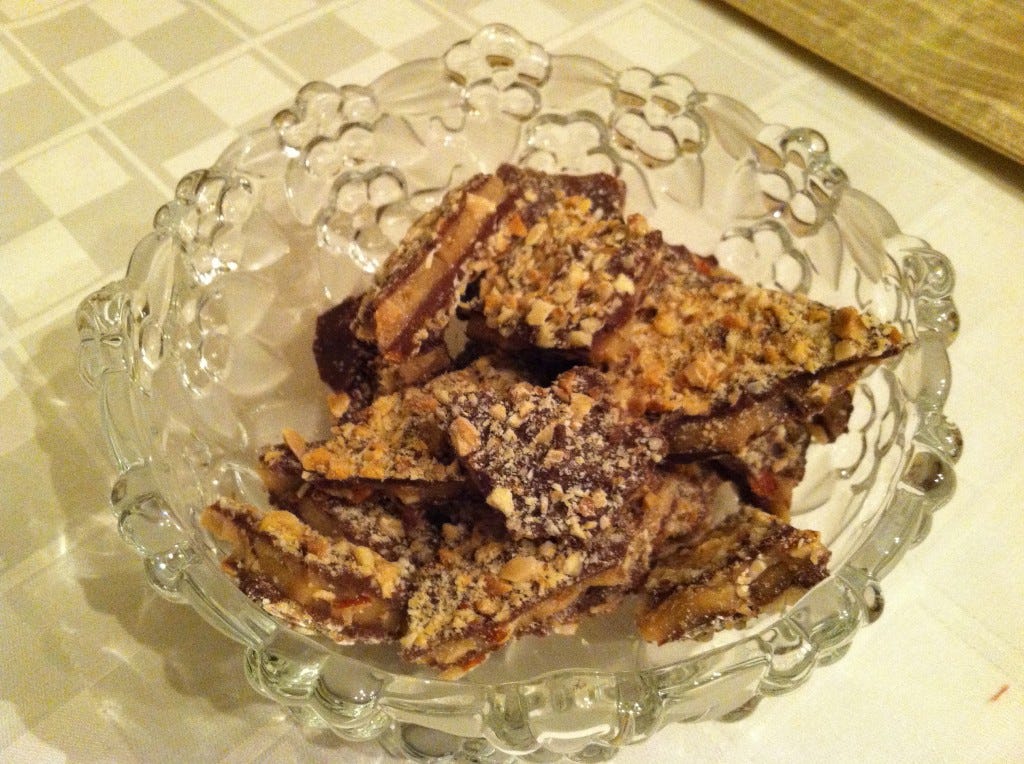 Ingredients
1 cup butter
1 1/3 cups sugar
1 tablespoon light corn syrup
3 tablespoons water
1 cup coarsely chopped almonds, toasted
1 cup finely chopped almonds, toasted
4 (4 ½ ounce) bars milk chocolate, melted (or you can use milk chocolate morsels). Dark chocolate is a great choice too!
Supplies
Candy thermometer
Jars – we use a variety of sizes depending who we are gifting to:
Here's how you make Almond Butter Crunch:
Melt butter in heavy 2-quart saucepan. Add sugar, syrup, and water.

Cook, stirring often, to hard-crack stage (300 degrees) *Watch Carefully after syrup reaches 280 degrees as it will quickly turn to hard-crack stage.

Quickly stir in the coarsely chopped nuts; Spread the candy out on a well-greased 13x9x2 inch pan or cookie sheet. Cool thoroughly.

Melt half of the chocolate and spread on top of the hardened candy; sprinkle with half the finely chopped nuts. Let chocolate harden.

Once chocolate is set, cover the candy with waxed paper and use another cookie sheet to flip the candy onto the new cookie sheet – exposing the side without chocolate. Melt the rest of the chocolate and spread over candy. Sprinkle with remaining nuts. Let chocolate harden then break candy into pieces and enjoy!
We gift this every year to everyone from the mailman, to teachers, to our co-workers, to our family and friends.
What traditional treat do you make every year?