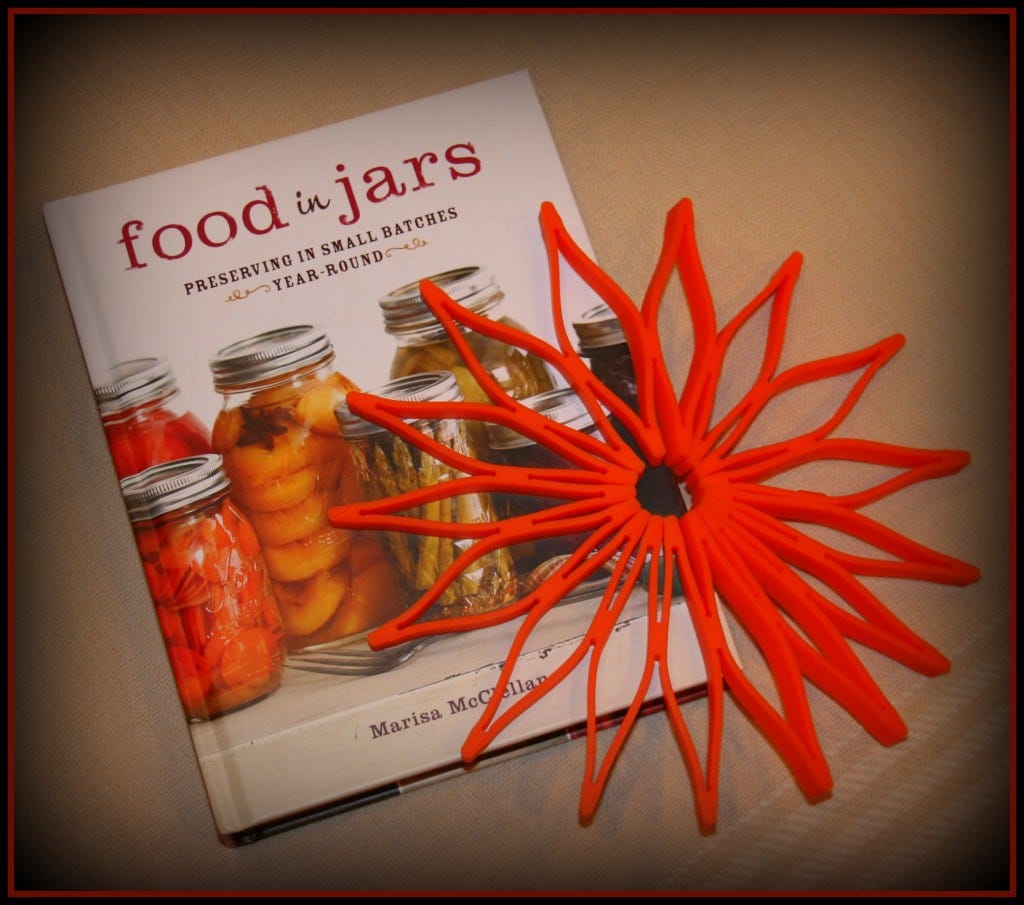 We've been fans of Marisa McClellan, blogger at Food in Jars, for quite awhile. However, it wasn't until last month that we had the chance to meet her. Marisa shared her Spiced Plum Preserves recipe, along with lots of other great canning tips, at Lemon Street Market with an Essen Cooking School canning demonstration. We went home thinking … if anyone can demystify the art of canning, Marisa can!
Since we both have a love of jars and all things canning, we decided to giveaway a signed copy of her cookbook Food in Jars: Preserving in Small Batches Year-Round, as well as a Blossom Trivet by Spice Ratchet, which Marisa raved about during the canning demonstration. But, before we get to the giveaway details, we wanted to share a few thoughts from Marisa (aka Food in Jars).
Fillmore: Although the traditional canning season is coming to a close, that doesn't mean we stop canning. What do you look forward to canning in the months ahead?

Food in Jars: When fall rolls around, I look forward to making jams, jellies, butters, and chutneys from apples, pears, persimmons, and quince. There are a number of recipes on my blog for these autumnal preserves. I'm a particular fan of the Pear Vanilla Jam and the Persimmon and Pear Chutney. Also, the recipe in the book for Honey Lemon Apple Jam is one that is quite delicious this time of year.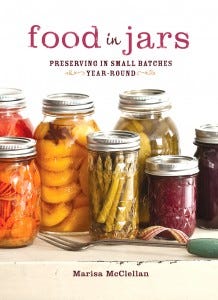 Fillmore: We are so excited to giveaway a signed copy of your book, Food in Jars: Preserving in Small Batches Year-Round. Tell us a little bit about what inspired you to write it.

Food in Jars: As soon as I started actively canning several years ago, I knew that there was space in the cookbook world that focused on small, modern recipes that didn't require many, many cups of sugar and used reasonable volumes of fruits and vegetables. That niche, coupled with my love of canning, naturally led to the book.
Fillmore: Do you have a favorite recipe or two that are always staples in your pantry?
Food in Jars: When it comes to my own pantry, I always make sure to have a couple jars of Tomato Jam on hand and Apricot Butter. Both are things that aren't easy to come by at the grocery store and make my daily meals so much more delicious. Just because those are my staples doesn't mean that everyone should make and stock those items. It will take all new canners a little bit of trial and error to determine what their must-haves are.

Fillmore: At the canning demonstration you raved about using a silicone Blossom Trivet, which we are including in our giveaway. Tell us a little bit about your discovery of this handy tool, which has replaced the traditional canning rack, and why you recommend/use it.
Food in Jars: The use of the Blossom Trivet as a canning tool was born out of my desire to find a better canning rack. Most traditional canning racks are made of metal and so they don't hold up to regular boiling. Using a rack made of silicone means that it doesn't rust or break down in the water. It also is a bit more flexible than a traditional rack, because it works in a great number of different-sized pots.
Fillmore: Of course, jars offer a whole other life beyond canning. What are some of the ways you use jars beyond canning?
Food in Jars: I adore canning jars for any number of tasks. I often use the pint-and-a-half jars as drinking glasses. I keep leftovers in wide-mouth quarts and store dry goods in the half-gallon size. My husband's LEGO collection lives in a few different jars and my spices reside in a bunch of the wide-mouth half-pints. They are incredibly versatile!
If you want to hear more from Marisa, check out her blog; in addition to our giveaway of the Food in Jars cookbook and Blossom Trivet, we are also giving away a case of 4-ounce smooth sided tapered jars and lids on Marisa's blog.
The Giveaway – One Lucky Reader Will Have the Chance to Win …
A signed copy of Food in Jars: Preserving in Small Batches Year-Round and a Blossom Trivet by Spice Ratchet.
How to Enter …
Leave a comment below about your favorite thing to can in fall/winter.
For a second entry "Like" our

Facebook Page

and leave a comment below stating you did.
For a third entry "Follow" us on

Twitter

and leave a comment below stating that you did.
For a fourth entry "Follow" us on

Pinterest

and leave a comment below stating that you did.
For those of you that can't wait to get your hands on the Food in Jars cookbook, you can purchase your own copy here. Or check out the Food in Jars blog for recipes, canning tips, upcoming canning classes, and more.

Terms of the Giveaway …
1. By participating in this giveaway/sweepstakes you are agreeing to these terms.
2. Participants must be 18 years of age or older and a resident of the USA.
3. Facebook has nothing to do with this giveaway and will not be used to announce the winners.
4. The giveaway ends midnight EST Friday, Sept. 28, 2012. The winners will be chosen at random and announced on Sept. 29, 2012. Fillmore Container will alert the winner by the valid email address entered when signing up to comment on this site. The winners will have 72 hours to respond. If we do not hear from the winner within those 72 hours, then another winner will be chosen in their place.
5. When the winners are chosen they will provide Fillmore Container their mailing address so we can send the Food in Jars cookbook and the Blossom Trivet. Fillmore will handle the shipping cost for the book and trivet.
6. No purchase necessary to participate.