We are pleased to have Robin Sue from Big Red Kitchen as a guest blogger! She's has a yummy NJ Coffee Cake recipe for us to try.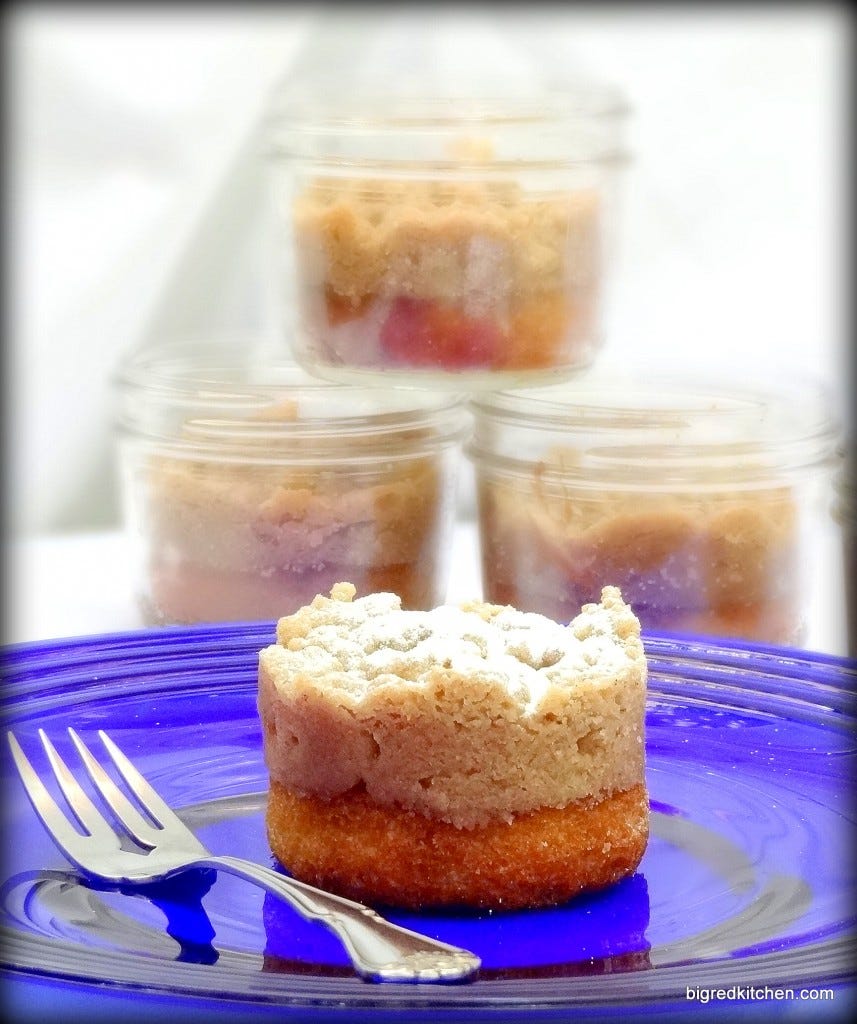 Robin Sue here from Big Red Kitchen and  I am thrilled to be here as a guest blogger for Fillmore Container.  This is a match made in heaven: they have jars and I fill jars.  I have been making Mason Jar Meals, MJMs, for over a year now. They were created to solve the problem of stained plastic containers, mis-matched lids, and wasted food.  My kids were bored with packed lunches from home and we needed a change.  One day I had cooked a bunch of food with the intention of packing it for my husband's lunches when I spied a few Mason jars I had lying around. The foods got layered up in the jars and the idea stuck!  From there I learned to adapt many dishes for the Mason Jar, you can see my recipes here.  As time went on my kids continued to challenge and inspire me to create more and more MJMs.
Here is a new little recipe I adpated from my NJ Coffee Cakes. For this MJM dessert or coffee break treat, the recipe has been adapted to fit in the 8 ounce wide mouth Kerr jars and is now all made from scratch in place of using a cake mix- so you are seeing this new little creation for the first time here!  The topping to cake ratio is key because who can resist crumb topping, and more is better in this case.  Pop these in your lunch box for your coffee break at work or in your children's lunches for a comforting treat from home.  I think these make nice back-to-school teacher gifts as well, just don't write "Have a Crumby Year" on the card.  More like "Crumb Cake is the new Apple" would be more appropriate. Grin.
Thank you Fillmore Container for inviting me here for a wee cuppa and a chat with your readers.  Now go bake some cakes everyone!
Mini NJ Coffee Cakes- From Big Red Kitchen
For the Cakes:

1/2 cup all purpose flour
1/4 tsp. baking soda
1/2 tsp. baking powder
1/4 cup sugar
2 T. unsalted butter
1 egg
1/4 cup sour cream
1/2 tsp vanilla extract
For the topping:
1 1/2 cups all purpose flour
1 1/2 sticks unsalted butter
1/2 cup sugar
2 tsp. cinnamon
1 tsp. vanilla extract
powdered sugar, optional
Preheat oven to 350 degrees. Grease six 8 ounce wide mouth mason jars. For the cakes whisk together flour, baking soda, and baking powder. Set aside.  Using an electric mixer, cream sugar and butter until smooth.  Add egg, sour cream, and vanilla extract, and blend until smooth.  Add in flour mixture and on medium-high blend ingredients for 1 minute.  Add a scant 1/4 cup of batter to each jar. Place jars on a jellyroll pan and bake for 7 minutes.
Meanwhile, using a fork or a pastry blender, blend all topping ingredients until small crumbles form. Set aside.  Remove cakes from oven on to a wire rack and divide crumble topping between each cake.  Place back in the oven for another 7-9 minutes.  Topping will be set and slightly golden.  Remove to wire rack to cool.  Top with lids and store in the refrigerator up to 5 days or in freezer up to 3 months. To serve, eat right from the jar, or run a knife between the cake and jar, place cake on a serving plate, and sprinkle with powdered sugar.  Recipe yields 6 cakes.
Another way Big Red Kitchen is Keepin' it Glassy!
Robin Sue Joss
Big Red Kitchen
To start making your own MJMs, check out our BRK Collection of jars used by Big Red Kitchen.
Save
Save